I'm Going To Be Living In These Aussie Girl Trends All Summer
And really, you should, too.
Hanna Lassen/WireImage/Getty Images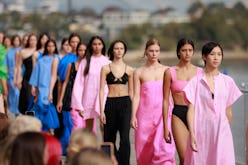 We may receive a portion of sales if you purchase a product through a link in this article.
Follow fashion long enough and you'll realize that while trends may faze in and out, every industry capital has a very specific way of approaching what's in the style zeitgeist. For instance: NYC is all about streetwise practicality; Copenhagen has a quirky-conceptual touch; Paris focuses on drama and glamour. And at the Australian shows? Well, those clothes are about as easy-breezy as the country's beach-forward culture, whether the pieces are geared toward going out (shout out to Aje and its slinky slip dresses) or even the office (I love St. Agni's approach this season). As I've been watching Sydney Fashion Week Resort 2024 unfold over the last few days, I've been struck by just how wonderfully unfussy the down under designers are in their way of pulling together an outfit. Most every look on the runway looks like it just magically came together in under 5 minutes and just somehow works.
With summer creeping up (and warmer temperature encroaching even more quickly — it was over 80 degrees in New York City a few days ago!) this relaxed surfer-girl-goes-to-the-city mindset is just what I need when wardrobe planning. Step one, of course, is stocking up on just the right staples — see the pieces I'm adding to my closet STAT, all inspired by trending items on the Aussie catwalks right now.
Tunic Time
Maggie Marilyn James Gourley/Getty Images Entertainment
Bianca SpenderMatt Jelonek/WireImage/Getty Images
AjeBrendon Thorne/Getty Images Entertainment
The look: a longline, curve enhancing top, anchored by flowing, wide-leg pants. The vibe: pure, unfettered confidence that you're the coolest person in the room. Consider accessorizing with giant flower-shaped earrings and platforms because if you're destined to stand out why not really go for it?
Code Yellow
Bianca SpenderNaomi Rahim/WireImage/Getty Images
JoslinNaomi Rahim/WireImage/Getty Images
Whether you go for a bright or buttery shade, yellow is one of those colors that's instantly noticed when you wear it. To wit, I'd take the route seen in the Resort 2024 collection and go understated everywhere else — the hue is your main accessory!
The Right Stripes
Anna QuanBrendon Thorne/Getty Images Entertainment
James Gourley/Getty Images Entertainment
BlancaMatt Jelonek/WireImage/Getty Images
Sometimes you need a bit of tension to create a harmonious effect. Case in point: this buttoned-up menswear pattern on fluid, floaty, and spirited silhouettes.
Pillar Of Strength
Bondi BornNaomi Rahim/WireImage/Getty Images
HenneMatt Jelonek/WireImage/Getty Images
Fans of Angelina Jolie and Jennifer Aniston, take notes: the secret to mastering their laidback elegance can be found in a neutral-heavy column dress (strappy sandals and a slicked-back ponytail won't hurt either).
Sarong Song
Bec + BridgeJames Gourley/Getty Images Entertainment
NgaliMatt Jelonek/WireImage/Getty Images
AlemaisStefan Gosatti/Getty Images Entertainment
While I'm more likely to spend this summer hiking than on the beach, I do fully plan to put some flirty tie-side skirts on rotation. And to keep the design from feeling more apt for running around the city than a resort, I have a foolproof trick: just add in a slouchy T-shirt and puffy-sole sneakers.