Zoë Kravitz's Incredibly Short Micro-Bangs Are The Chicest Thing In All Of Paris
Maybe all of France, too.
@zoeisabellakravitz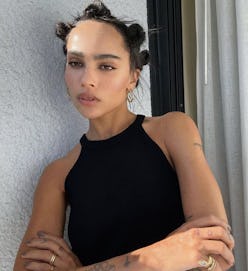 No matter the city, Fashion Week will always be a bright spot of the entire year. The celebrities will be out to play, the street style will be immaculate, and the parties will rage all night long. Paris, though, is usually just a little bit different. Home to some of the biggest marquee names in the industry, even the most high-profile A-listers are on their best aesthetic behavior the moment their plane touches down in the City of Lights. Just look at Zoë Kravitz's micro-bangs, part of an entirely new, completely glamorous hairstyle created for the Saint Laurent Spring 2024 runway show.
As a muse and face of the fashion house, it was expected that Kravitz would sit in the front row, and likely arrive with some fabulous hair-makeup-outfit combination, but her itty-bitty fanned-out bangs, bright red nail polish, and gauzy polkadot dress left the fans crowded outside practically giddy with excitement. All in all, her look takes every visual calling card from that consummate "French-girl look" and added an undercurrent of sultry, modern straightforwardness to make the entire thing totally her own. While Kravitz has experimented with short micro-bangs before, pairing them with a long, sleek hairstyle is a major enough departure from the usual that it still feels so fresh.
For the big runway moment, Kravitz turned to her favorite beauty experts. Celebrity hairstylist Nikki Nelms created the fringe-centric look, aptly captioning a photo of Kravitz "Bangin' AF" over on Instagram. Nelms is behind so many of Kravitz's all-time coolest hairstyles, including the retro-inspired updos worn throughout The Batman promotion cycle.
On the makeup front, celebrity artist Nina Park gave Kravitz a dewy, highlighted effect across the cheekbones, but let her lips stand out with a soft, fetching shade of matte brown. Both the hair and makeup fall right in line with Kravitz's usual glamorously pared-down aesthetic, allowing her natural features to shine through feature-glorifying products, finishes, and styles.
Paris Fashion Week is only a few days in and already Kravitz is setting a very high bar for all attendees. And maybe just in general — aspirational doesn't even begin to cover it.