Zendaya Just Unearthed The Chicest Throwback Photo & Her Haircut Is Incredible
How long has she been sitting on this one?!
@zendaya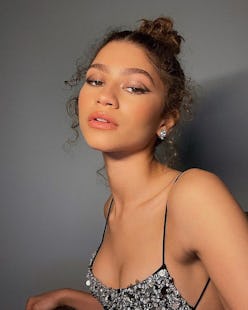 Who else relates to this scenario? You manage to take a photo that you truly love, and are overcome with the urge to suddenly add it to your Story, post it to your feed, and make it your new profile picture on every single social media account you've ever had — even ones left untouched since approximately 2004. You know who doesn't understand that phenomenon? Zendaya — she's never taken a "bad" picture in her life. She's actually so well-stocked with stunning shots that when she casually pulls out a never-before-seen throwback, it's good enough to be on a billboard tomorrow. Zendaya's wet, wispy bangs and purple eye makeup from her Lancôme campaign archive were gorgeous enough to warrant posting on the drive home from her photoshoot — but for the Dune 3 star, it's just another Sunday afternoon.
Zendaya fans know she's not too keen on constant social media activity, which makes the rare days when she does share a photo especially exciting. In the portrait, she's posed in a gauzy black dress, her short hair slicked down to simulate the look of those currently-trending "wolf cuts" mullet hybrids, heightened by the shorter tendrils pulled out around her ears — it gives her straightforward bob a choppier, layered look.
Celebrated celebrity hairstylist Kim Kimble created Zendaya's edgy-glam hairstyle for the shoot, while makeup artist Raoúl Alejandre lent his distinct, bold style to her blown-out purple wings and delicate blush. Alejandre's actually responsible for so many of Zendaya's most iconic makeup moments, including the doll-like lash clusters she wore to the SAG Awards, and the colorful, graphic "stiletto eyeliner" she favored for much of her Spider-Man: No Way Home press tour. Considering just how creative so many of her best looks are, it's no wonder she scored such a high-profile beauty ambassadorship with Lancôme.
Zendaya has a few anticipated movie premieres coming up this fall, but even if they end up strike-delayed, she clearly has enough in the archives to keep fans occupied.