Victoria Beckham Just Broke Her Own Fashion Rule Of Never Wearing Crocs
Her take on the look, of course, is so fun.
Stephane Cardinale - Corbis/Corbis Entertainment/Getty Images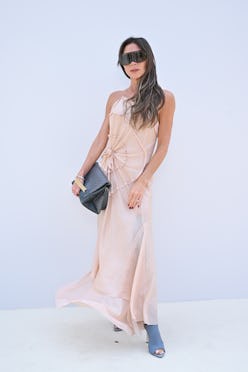 We may receive a portion of sales if you purchase a product through a link in this article.
Victoria Beckham's latest #OOTN is proof that doll-inspired fashion is the It-girl style of summer. On Tuesday July 24, Beckham wore oversized yellow boots from the MSCHF x Croc collab, styling the Polly Pocket-esque shoes with a black racerback tank and a midi skirt. (Only Posh Spice could pull off a look this out of the (toy)box!). From the knee up, it was a classic Beckham outfit as she styled her separates with simple gold earrings, a watch, and a bracelet. However, the footwear turned the ensemble into a quirky take on monochromatic minimalism. To little surprise, the internet has mixed reactions about the comically large boots, but we personally love that the designer stepped outside of her usual minimal, tailored aesthetic.
As you may know, Beckham usually sticks to what sartorially works for her, which includes neutral dresses, sleek flared pants, lightweight blouses, and the classic pump. That's why her choice in rocking the aforementioned statement chunky boots is certainly surprising. Additionally, her fans may recall that back in 2021, Beckham famously said she'd "rather die" than wear a pair of lilac-colored Crocs Justin Bieber had designed. Fast forward to this week though, and it appears she's had a change of heart about these "ugly" shoes.
In addition to Beckham, Paris Hilton is also a fan of the MSCHF x Crocs footwear as she stars in their campaign, which was released today. The bright knee-high style spotlights Croc's signature ankle straps and breathable holes. (In the words of Hilton: "That's Hot.") If you want to get your hands on the boots though, you'll have to wait for their official release on August 9.
Chances are, as soon as these shoes drop, they'll become a viral must have — much like how MSCHF's Big Red Boots from earlier this year took ahold of the internet. Celebrities like Janelle Monáe, Ciara, and Doja Cat — to name a few — were spotted in them. And, the statement accessory practically took over street style at Fashion Month and on the red carpet.
Ciara went full grunge — styling the boots with an oversize Michael Jackson tee, black sunglasses, and layered silver chains. Meanwhile, Monáe went the sporty route for a basketball game, opting for a custom letterman jacket, and a black crop top and leather skirt set. She even commissioned artist Kevin Rejtö Lowry to paint an adorable cloud design on her rubber BRBs.
While you wait for the Big Yellow Boot's release (mark your calendars for August 9!), you can shop the popular red option right now. For those who appreciate Beckham's timeless take on the animated MSCHF design, shop the accompanying pieces to channel her outfit too.