Vanessa Hudgens' Engagement Mani Is So Untraditional — That's Why It's Great
Gorgeous nails, gorgeous ring.
Kevin Mazur/Getty Images Entertainment/Getty Images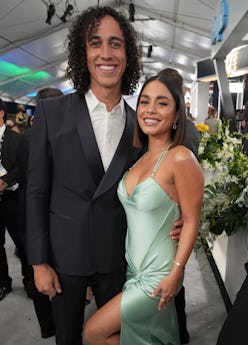 It's official — the Coachella queen has found her king. Yes, Vanessa Hudgens is getting married, formally announcing her engagement to MLB player Cole Tucker after two blissful years together. While some raced to Instagram to see her rock (a flawless oval-shaped diamond, by the way), many were just as excited to see Vanessa Hudgens' engagement nails. One of the most prolific nail art connoisseurs in Young Hollywood, her manicures are always unpredictable in the best way — naturally, her nails for the big moment had to follow suit.
Tucker popped the question on a shimmery night in Paris, and Hudgens wasted no time sharing a picture of her new ring in front of an illuminated Eiffel Tower. Right now, Hudgens' comment section reads like a high-profile directory. Congratulatory well-wishes from Lily Collins, Olivia Munn, Ashley Park, Nina Dobrev, and Sarah Hyland have already poured in, with Moschino designer Jeremy Scott adding an excited, "Sketching the dress now!" In the photos, Hudgens has a long, stiletto-shaped manicure coated in a matte oxblood shade that definitely aligns with her long-documented love for witchy aesthetics. A total 180 from the usual soft pinks and neutrals traditionally associated with the big moment, it's a sign that Hudgens' bridal style will be as exciting as her bold red carpet looks.
Whether or not Hudgens prepared for the proposal and selected the rich maroon shade specifically or was surprised on the spot once already in Paris, the manicure style is one of her all-time favorites no matter the season. Even in more casual settings, she seems to prefer the ultra-long, pointed look of stiletto nails, a high-drama shape that's rising in popularity by the week, in large part thanks to celebrity fans like Hudgens, Kim Kardashian, Kehlani, and Megan Fox.
2023 and 2024 wedding trends are all indicating an invigorating shift away from lock-step traditional looks as more and more brides gravitate to self-expressive looks that represent their personal style and taste. If anyone could lead the charge, it's Hudgens.