Thinking Of Cutting Your Bangs? Lily Collins Would Like A Word First
She shares all her tips with TZR.
@lilyjcollins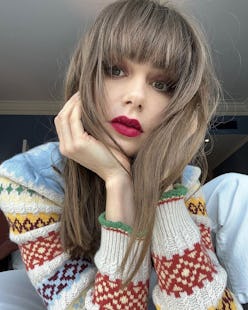 We may receive a portion of sales if you purchase a product through a link in this article.
On her hit Netflix series, Emily in Paris, Lily Collins' style is anything but subtle. In fact, her character, Emily Cooper, has become known for her over-the-top outfits, voluminous hairstyles, and bright shades of lipstick. In real life, however, the star prefers a much more minimal look. Though a new take for her on-screen character, Lily Collins' bangs number among her beauty signatures. And, thanks to her time filming in Paris, her styling routine is much more laid back than you'd think — but even Collins learned a thing or two about French-girl beauty in her time playing Emily. When TZR caught up with her on the set of a campaign for hair care brand Living Proof, the star shared everything from her ride-or-die hairstyling product to learning to embrace her "quirky" features.
After three seasons of shooting on location for Emily in Paris, it makes perfect sense that Collins would adopt the French beauty philosophy. The best tip she's gleaned from being surrounded by three seasons worth of Parisian chicness? "I would say keeping it really natural and minimal on your skin and throwing a red lip on," the actor tells TZR. "It's that kind of chic, quiet confidence of French beauty that I think is so attainable. But it's also aspirational because there's something very glam and chic about it."
Embracing her natural features hasn't always come easy, though. In childhood, Collins was bullied for having thick, bushy eyebrows — a trait that, in 2023, is highly sought-after. "The quirky things that make you different are what make you beautiful," she says, something her mother always told her, when asked about the best beauty tip she ever received. "Mainly I took that to heart in terms of my eyebrows when I was younger. As a kid, they weren't necessarily cool. I was made fun of and so I had to learn to love and embrace them." She says her mother's mantra stuck with her, and it's still something she applies to her life today. "When you're admiring people's, traits and isms, whether it's physical or emotional, or intellectual, it's always the things that make them stand out that are what you remember most."
While Collins has been wearing bangs for years, her most recent iteration (the oh-so-chic French bangs style) is perhaps her best yet. Swaths of fellow celebs have cut bangs recently, and while the fringe craze might be tempting, Collins says it's not a decision to be taken lightly. "Make sure you have a trusted hairstylist that knows your face shape very well because when bangs are cut wrong, they take a long time to grow out," the actor says. She says it's a matter of finding a stylist you trust and having a frank conversation with yourself about the maintenance it requires. In the case of her own famous fringe, though, styling and maintenance doesn't have to be so complicated. While many claim bangs require daily styling regardless, Collins takes a decidedly French approach to the entire thing. "Honestly, I air-dry them," she admits. "I don't even really do that much. The only thing I always make sure to have is a miniature bristle brush with me. Because if you're scootering in Paris, like I do all the time, the windblown effect on bangs can not be so great. Or it starts raining or it's humid and you need a little spruce."
A quick refresh comes courtesy of Collins' favorite hair care product, Living Proof's Perfect hair Day Dry Shampoo. "That's the travel size, and I carry it everywhere," she says as she points to her makeup bag. "They're in every purse. It just saves me because I travel a lot and also I don't want to always wash my hair. You just spray it in and it truly can help me for days on end."
You might not be scootering through Paris any time soon, but you can still nail Lily Collins' French girl glam with the help of her low-maintenance styling tips — and, of course, her favorite dry shampoo.