Thuso Mbedu's It Girl Status Has Not Changed Her Comfort-First Style Philosophy
@thuso.mbedu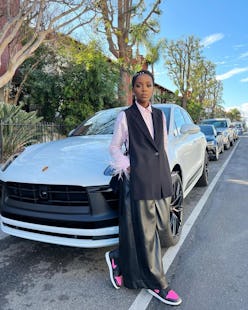 You've likely seen Thuso Mbedu working the award and fashion show circuits this year, donning all manner of designer gowns like a true It girl. But, despite her ability to pull off the most glamorous couture looks, the 31-year-old would still choose sneakers over stilettos any day of the week.
"I am a person who is very much comfort over everything," says Mbedu at TZR's ZOEasis event on April 15, noting "shoes and shades" as her go-to style investments. "You can play with T-shirts, you can play with your pants, and you can essentially wear the same type [for both], but if your shoes are speaking and your shades are speaking, you're sorted."
In skimming Mbedu's Instagram, you'll notice one shoe brand in particular makes a frequent appreance: Nike. "I think anybody who knows me, knows that she's a Nike girl," says the South African native. "I actually have people go, 'Oh, that's not a Nike [if I'm not wearing them].'"
Possibly the only time the actor might find herself straying from her beloved athletic footwear is on a red carpet, where she's becoming a frequent attendee, particularly over the past year. Between the critically acclaimed film The Woman King and her hot new campaign for Dior Beauty's Gris Dior Scent, Mbedu has seemingly been breaking new ground in otherwise laid-back personal style. And while she'd love to take all the credit for her risk-taking, she's quick to tip her hat to stylist team Wayman and Micah (the duo behind other big style hitters like Tessa Thompson, Jennifer Hudson, and Regina King).
"They're always trying to play," says Mbedu. "I think what I said to them at the very beginning of our relationship is that 'I trust you. I trust your vision. I look forward to it because it's an opportunity for me to play with a new character.' So, they're always trying something new. There's no template in terms of what we're doing. We don't know what the next look is going to look like. I'm always excited in terms of what they're going to bring as options, and I love seeing what the initial look is versus what it looks like [after] they've played with it."
To date, her favorite fashion moment is from the Vanity Fair 2023 Oscar Party, where Mbedu wore a black Dior Couture gown that included a cage-like, corseted bodice. "It was a mesh top, almost see-through, something that I wouldn't have done in the past," she says with an infectious laugh. "That was a little risky, but it looked fire. I looked nice."
While fashion may be a space in which she's willing to take risks, the beauty world, on the other hand is a different story altogether. "I generally suffer and struggle when it comes to makeup," says Mbedu. "I don't know what I'm doing. It's funny, because when it comes to meetings, I recently made the decision not to wear makeup at all. So, as I have [these] meetings, people know what they're getting into with me. Then they can make a decision in terms of the canvas that they want to build on." It's this kind of optimism and self-awareness that is certainly setting Mbedu up for success. We'll be watching from the sidelines as her star continues to rapidly rise.