How The Idol's Makeup Artist Brought Jocelyn's Xtina-Inspired Looks To Life
How can you not be hooked?
Photograph by Eddy Chen/HBO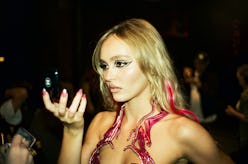 We may receive a portion of sales if you purchase a product through a link in this article.
Whether you're fully obsessed or an avowed hater, it's undeniable: Summer 2023 belongs to The Idol in every sense. A gritty, exhilarating depiction of the music industry's darkest corners, the series has audiences enraptured with Lily-Rose Depp and the troubled young pop star she portrays. The doe-eyed, pouty-lipped Jocelyn feels at once comfortingly familiar and enigmatically unknowable, a blend of sex-saturated 2000s pop stars and campy femme fatales of the big screen, all underscored by a tragic little-girl-lost archetype. The entire production hinges on the believability of Depp as a world-famous pop diva, which means everything about The Idol's Jocelyn — makeup, hair, and wardrobe included — needed to be both visually enticing and unmistakably authentic.
Makeup department lead Kirsten Coleman doesn't just capture the zeitgeist in her on-screen work — she's the one who creates it. Already an Emmy winner for her instantly-recognizable work on Euphoria, she reunited with showrunner Sam Levinson for The Idol, creating yet another signature look (and probably half of all Halloween costumes this year) in the process. Coleman describes the entire cosmetic creation process as fluid and collaborative, an ever-evolving blend of inspirations, references, and character interpretations that only expanded as she and Depp further explored Jocelyn's on-screen journey. Ahead, Coleman takes TZR through the entire process just in time for Season 1's second half.
Jocelyn's Aesthetic Inspirations
After reading through scripts, examining the story, and batting ideas around with Levinson, Coleman says she creates several mood boards stuffed with inspiration taken from a wide range of sources, many of them tailored for specific individual scenes, too. Coleman describes it as sort of a vibe curation, made up of images from movies, music stars, and even real-life shots of Depp herself. The process was an ever-changing one, leaving room for adjustments as the character's story unfolds and she and Depp get a better sense of who Jocelyn truly is at any given point. "A lot of times it was just Lily and I riffing on what we want to do for the day, where we're at in the story," Coleman tells TZR. "We're kind of creating Jocelyn every second of the day."
The character's exaggerated, sexy persona immediately evokes every TRL-topping musician of the early aughts, references Coleman says are intentional and obvious. "When we meet Jocelyn, she's very much in the position of Britney Spears," she says. "There's also a lot of Christina Aguilera references, especially in the music video that we do — kind of that late '90s, early 2000s pop star that I think doesn't really exist anymore. It's a very specific type of [celebrity] and specifically Sam wanted to reference that."
Other inspirations, though, are less immediately identifiable but equally important, seen in subtle nods throughout each episode. When Jocelyn meets The Weeknd's character, mysterious nightclub impresario Tedros, her aesthetic shifts along with her creative outputs. "He sort of helps her tune in more into who she really wants to be as an artist," Coleman explains. Those references are more along the lines of '80s erotic thrillers featuring femme fatale leads, like Basic Instinct. In one scene, Depp's character is even seen watching the Sharon Stone film. "Sexually confident women, I think, is definitely something that we reference a lot with her," Coleman says, listing Kim Basinger's 9½ Weeks, a movie she actually watched on Depp's recommendation.
Christina Aguilera, Sharon Stone in Basic Instinct, and Britney Spears
Marc Serota/Michael Ochs Archives/Getty Images
Dave Hogan/Getty Images Entertainment/Getty Images
Sunset Boulevard/Corbis Historical/Getty Images
"[Jocelyn] probably watched some of these '80s movies when she was young with her mom or something like that, they were women that she kind of looked up to, so I think she represents that in how she expresses herself."
Bringing The Look To Life
In the aired episodes of The Idol, Depp's makeup looks can roughly be divided into two categories: Jocelyn off-duty, and Jocelyn when she's on. Many of the character's more casual moments feel very much aligned with Depp's makeup signatures IRL: nude-pink lips carefully lined, chiseled-out cheekbones, and defining black eyeliner rimming her upper and lower waterlines. In the opening scene, Depp wears the Chanel Beauty Le Crayon Lèvres Longwear Lip Pencil in Pivoine over-lined and then lightly blended to blur the edges.
What will surely number among the most memorable makeup looks of the show, though, is Jocelyn's geometric winged eyeliner as she films the music video for "World Class Sinner / I'm A Freak." Coleman shares that the visceral, demanding nature of the shoot required constant touch-ups, recreating the look three different times — which required nearly 2.5 hours in the makeup chair each time. After hand-drawing on the black gel eyeliner (Calligraphie De Chanel Longwear Gel Liner, which "does not budge"), she had to meticulously trace back over it all with black glitter gel. "And then, of course, she has way more makeup on, skin makeup." She explains that Levinson needed authenticity from the scene, so Depp was done up as if she were actually performing under the hot lights and close-up cameras necessary for a dramatic music video.
"She's got thick makeup on, she's got crazy lashes on, she's got more of everything — more hair extensions, she's sewn into her outfit. Everything is supposed to be really practically uncomfortable in some ways, because when you're performing, you're kind of this other person that all these people are kind of telling you to be," Coleman explains. "And that's what [Levinson] wanted us to express — that's why there's such a hard, stark contrast in herself for normal everyday. Then when she's performing, it's like she puts on her Jocelyn mask in some ways."
With just two more episodes to go in the season, Coleman's favorite looks from the show are still yet to come. "There's more depth, I think, to the music that she wants to go into, and we start honing in on that with her makeup and how she presents herself later on as Jocelyn — as she's sort of becoming this different version of Jocelyn," she says, teasing a pivotal moment in the final episode. "It's kind of like the final stage of her transformation that I think she goes through as her character, and we see that and it's very dramatic. I'm super excited about that."
Speaking for the ever-growing legion of Jocelyn fans, the world is excited, too. Shop some of the products Coleman used to bring Depp's looks to life just below.