We Can't Stop Thinking About These 5 Outfits From 'The Idol'
HBO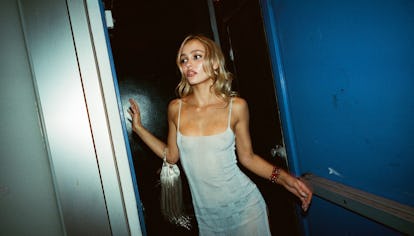 We may receive a portion of sales if you purchase a product through a link in this article.
When the teaser for HBO Max's new show, The Idol, debuted with the tagline "the sleaziest love story in all of Hollywood," you knew it would, unsurprisingly, stir up controversy with the critics and viewers. In fact, with just two episodes under its belt now, the series has already showcased plenty of nudity, sex, partying, and explicit language. But rated-R storyline aside, Lily-Rose Depp's sultry outfits — or lack thereof — in The Idol are very much worthy of your attention. The actor plays protagonist Jocelyn, a rising pop star in Los Angeles.
The drama series' costume designer, Natasha Newman-Thomas, chatted with E! News exclusively about Jocelyn's skin-baring looks in the show, explaining: "If you're a pop star on that level, you have to wear clothes that are unattainable to keep that fantasy status. We wanted to get the point across that she's not a normal person." The stylist, indeed, was successful in getting that message across to viewers, as you can see by the character's looks in Season 1 thus far. For instance, in the first episode, "Pop Tarts and Rat Tales," the Hollywood darling donned a barely-there mesh bra from Didu and an itty-bitty miniskirt courtesy of Danielle Guizio. And in last night's installment, "Double Fantasy," Depp rocked an ultra-revealing custom pink bodysuit by Nusi Quero.
Whether you're caught up with Jocelyn's antics, or have yet to tune in (not to worry, we're not giving away any spoilers), see her most controversial fashion moments thus far. Make sure to bookmark this post, too, as we'll add in more seductive outfits with each episode.
Episode 1
In this scene, Depp wore Aya Muse's Merano Knit Mini Dress in blue, which is now out of stock. As luck would have it though, you can get your hands on similar see-through numbers from the Los Angeles-based label, including the black iteration below. Moreover, Depp teamed the sensual mini dress with a metallic statement bag.
Episode 1
Here, Depp wore a red silk and black lace robe, which nods to none other than Marilyn Monroe. According to Decider, director Sam Levinson sent Newman-Thomas a Slim Aarons portrait of the late Hollywood style icon to reference when creating Depp's look for the scene.
Episode 1
The emerging pop star donned perhaps the tiniest outfit ever during the series premiere. As mentioned above, the teeny-tiny bra came from Didu, while the micro skirt is by Danielle Guizio. Lastly, Diesel trainers gave Depp's look a sporty feel.
Episode 2
You might've already seen this sultry bodysuit, as Depp posted a photo of it last August. The custom look by Nusi Quero boasts a corset silhouette and sparkles, which the actor wore with silver strappy stilettos.
Episode 2
Leave it to TikTok users, including @brittany.m.morgan, to ID Depp's midriff-baring look from last night's episode. According to the account, the actor's fiery red crop top is from RUI, while her floral leather miniskirt is by Kirin.