Lily-Rose Depp's Signature Makeup Combo Got An It-Girl Upgrade For The Idol Premiere
So perfect for the red carpet.
Marc Piasecki/FilmMagic/Getty Images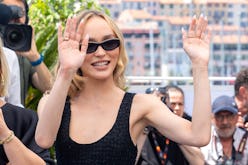 Just a few days into her Cannes trip and already life is imitating art for Lily-Rose Depp. Looking like the consummate pop diva in cat-eye sunglasses and long, dramatic nails for a cast-wide photo call, Depp's whirlwind press tour for The Idol is already delivering a slew of soon-to-be legendary looks — in both the fashion and beauty columns. Depp's Cannes makeup and hair are particularly representative of the young star's aesthetic as a whole, born from her high-profile upbringing: classic French-girl styles fused with a youthful, all-American brashness. The combination helped rocket Depp from working model to social media muse to full-fledged screen star, and it's easily applicable for a summer of casual glamour.
So far, Depp has unveiled four distinct looks promoting her controversial new series, all ranging in formality but united in understated yet sultry elegance. The standout from the set is undoubtedly her vintage sequin-covered Chanel mini-dress and the timeless chignon she chose to pair with it. The twisted updo is prim, proper, and perfectly French — until you get to the free-flowing, jaw-length pieces tumbling down around her face. That free-spirited element brings a relaxed, confident air to the red carpet, which she walked with co-star Abel "The Weeknd" Tesfaye.
Samir Hussein/WireImage/Getty Images
Dominique Charriau/WireImage/Getty Images
As a documented cosmetics lover, Depp's appearance at any event all but guarantees a memorable makeup moment. For her big Cannes premiere, she turned to a dressed-up take on her signature look: an elongated cat-eye with plenty of waterline eyeliner, framed by a shimmery halo of blue-brown eyeshadow. It's not far off from Depp's usual smoky eye-pale lip move, but elevated to reflect the captivating sparkle through her sequined gown.
Before the premiere, Depp hit another photo call for The Idol, joined by co-stars Jennie Kim, Troye Sivan, and Rachel Sennott. Depp took a more low-key, overtly sultry approach for the cameras, wearing her shoulder-length hair in a tousled bob with darker eyeliner smudged through her lower lash line.
Depp kept the energy up later through night as she hit a post-premiere party with The Idol cast, dancing for hours in a zipper-front top and low-rise jeans — she even let her hair down (literally) for the after-hours celebration.
But most impressive of all? Looking as fresh as if she were in bed by 9 p.m., Depp arrived at yet another photocall the next morning in a daytime friendly version of last night's look, complete with fawn-brown eyeshadow.
Four incredible looks in less than two days and still she's preparing for more. If you can count on anything, it's the endless possibilities this press schedule holds.