The Latest Trailer For 'The Idol' Just Dropped — And It's A Seductive Watch
Lily-Rose Depp will capture your attention.
@lilyrose_depp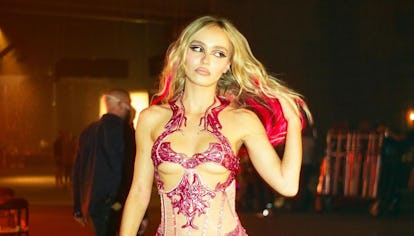 Here's a fun fact you might have missed during Euphoria Sundays last winter: The hit series' Season 2, episode one broke the record for the most-watched digital premiere of any HBO episode ever, garnering a whopping 2.4 million viewers. (What you probably do recall? The HBO Max app crashing for the finale at 9:00 p.m. on the dot.) Needless to say, its director Sam Levinson knows a thing or two about creating binge-worthy television. And now, he is blessing fans with another buzzy series: The Idol. The show, which is set to premiere Sunday, June 4 at 9 p.m., stars Lily-Rose Depp and Abel "The Weeknd" Tesfaye, who created the show alongside Levinson and Reza Fahim.
The world first learned about the upcoming series in June 2021, when The Weeknd shared a story from Variety on his Instagram feed. (Note: The post is currently sitting at almost 900k likes, so fans are clearly hyped.) According to Collider, principal photography for the new series took place around Los Angeles in November 2021; however, the production was temporarily paused due to The Weeknd co-headlining Coachella. But the wait is almost over, as the series' premiere is right around the corner.
If you've heard chatter surrounding the long-awaited show but aren't quite up-to-date with the cast and plot, not to worry — TZR has you covered. Keep reading to get the low-down on everything we know about The Idol so far, then bookmark this post as it will be updated with more information as we get them.
The Idol Trailer
The Idol's latest trailer, unveiled on April 17, paints an incredibly seductive picture of what viewers can expect from the series. The provocative clip shows a glimpse into the toxic relationship between up-and-coming pop star Jocelyn (Depp), and LA nightclub owner and leader of a secret cult, Tedros (Tesfaye). Spoiler alert: Prepare for plenty of risqué dancing, steamy relationships, and over-the-top drama. Viewer discretion is most definitely advised when the show comes out on HBO in June.
The Idol Plot
As mentioned above, The Idol is a drama series about Jocelyn and Tedros' romantic, roller-coaster relationship. Juicy! Moreover, the two are deep in the stereotypical music scene in Hollywood, which involves lots of partying, alcohol, and, well, you can probably guess the rest. The new show has even been dubbed "the sleaziest love story." In other words, viewers are in for a wild ride.
The Idol Cast
Tesfaye secured the male lead role in The Idol alongside female co-star Depp, who will be making her television debut. The new series' star-studded cast has a host of other familiar faces, too, including Talk Me Down singer Troye Sivan, Schitt's Creek Dan Levy, and Shiva Baby's Rachel Sennott.
This article was originally published on