Lily-Rose Depp Is On The Rise: Here's What To Know About The It Girl
She's starring in 'The Idol.'
@lilyrose_depp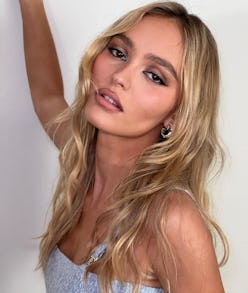 Lily-Rose Depp is no stranger to the Hollywood scene as she's the daughter of Johnny Depp and famed French singer Vanessa Paradis. While Depp has managed to keep a relatively low profile most of her life — save for a few Chanel campaigns — her name is now popping up everywhere. That's because she's starring in HBO's upcoming series The Idol, playing the titular role of Jocelyn, an aspiring pop star who falls into a toxic relationship with an LA nightclub owner. The show is reportedly debuting this summer and for those wondering who exactly is Lily-Rose Depp, TZR did a little digging to discover details about Hollywood's latest It girl.
While The Idol is arguably Depp's biggest role to date, the 23 year old initially made her foray into acting back in 2014, when she landed a small role in Canadian comedy-horror Tusk. From there, she began adding other projects to her resume like The King, The Dancer, A Faithful Man, and Voyagers. Additionally, she's been nominated for countless accolades for her on-screen work, including César Awards' Most Promising Actress in 2017 and 2019.
Outside the film industry, Depp is a bona fide fashion girl. She sits front row at Chanel and was even the house's youngest global ambassador back in 2015. She also often shares her stunning Chanel campaigns with her seven million Instagram followers. Additionally, Depp has quite the track record for turning heads at the Met Gala, which is arguably the fashion industry's biggest annual party. Who could forget her iconic vintage Chanel Haute Couture number in 2019?
Are you curious about Hollywood's latest It girl? If yes, jump ahead to indulge in every little fact about Depp because 2023 is going to be her year.
Depp Was Born In 1999
Depp is the oldest child of Johnny Depp and Vanessa Paradis, who split up when she was 13. After their breakup, Depp spent her childhood between Paris and Los Angeles. She has a younger brother, Jack John Christopher Depp III, who is 20 years old. And fun fact: She's fluent in English and French.
The actor originally wanted to follow in her mother's musical footsteps. "When I was little, I wanted to be a singer, just because I wanted to be like mum," she told The Sun in 2019. "Every little girl wants to be like her mum." But once she began acting, she felt so comfortable, according to an interview with Vanity Fair.
To pursue her dream, Depp dropped out of high school to act full-time. "Acting is all I want to do with my life now, and I want to work as much as possible," she said in a 2016 interview with BURO 24/7. "I realized after working on La Danseuse and Planetarium in Paris that it was impossible for me to pursue acting as a career and still attend classes and be able to do my homework."
Depp Plays A Lead Role In 'The Idol'
The Idol isn't Depp's first time in front of the cameras, however, the new HBO series will be her breakout career moment. "I've dreamt of roles like this for forever," she said in a recent interview with i-D Magazine. "I just don't think that you could give an actress a greater gift than a role like this. This has been the most meaningful and important project that I've ever done, and the thing that I'm the proudest of."
Depp Was The Youngest Chanel Ambassador Ever
In 2015, Lagerfeld himself tapped Depp for the face of its eyewear campaign when she was just 16 years old, making her Chanel's youngest global ambassador ever. Her mother, too, has been a long-time Chanel muse; she started working with the brand in 1991 at 19 years old. Today, Depp is a full-fledged Chanel girlie, often appearing in the French fashion house's campaigns, including its 2022 handbag ad and Spring/Summer 2022 campaign.
Depp Closed Chanel's Haute Couture Show As The Bride
Depp and Lagerfeld forged a close relationship over the years, so much so that he selected the young star, who was 17 at the time, to be the bride for the fashion house's Haute Couture Week Spring/Summer 2017 show. What does the coveted role entail? The chosen model joins Lagerfeld for the closing bow. So no, Depp didn't actually get married. She walked the runway in a voluminous, ruffled pastel pink Chanel number for the memorable occasion.
Depp Is Lauded For Her Red Carpet Looks
Since attending her first Met Gala in 2016, Depp is known for her iconic looks at the annual star-studded event. She stunned in a Chanel chiffon halter dress and coordinating jacket for her inaugural appearance. And for her second invite a year later, the starlet wore a hot pink strapless style from the French label. Her most noteworthy ensemble to date? The vintage Haute Couture Chanel number she wore in 2019, seen above.
Moreover, Depp has also had her fair share of memorable red carpet looks. Take her breezy, goddess-looking Chanel outfit for the 70th Cannes Film Festival or the ruffled outfit from the French house she wore at the London Film Festival premiere for her movie The King.
Depp's Off-Duty Style Is Casual & Chill
Off the runways and red carpets, Depp's everyday outfits are surprisingly laid-back, which is perhaps a reflection of her Cali upbringing. More often than not, she defaults to her signature relaxed straight-leg jeans, sporty shorts, and plain tank tops. But will her street style evolve as she's in the public eye more? Only time will tell.