Sofia Richie Grainge Is Bringing Back Y2K's Most Controversial Lip Trend
A new old way to wear concealer.
@sofiarichiegrainge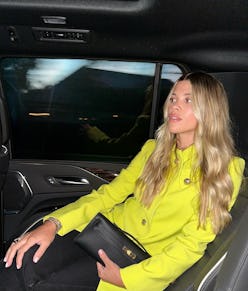 The early aughts have inspired many recent top beauty trends. Take the resurgence of blue eyeshadow and French tips, for example. However, anyone who came of age in the Y2K era would definitely agree some looks are better left in the decade. Case in point: Sofia Richie Grainge's concealer lips. Instead of traditional lipstick, this polarizing trend consists of applying concealer to the lips for a completely nude effect. While the result is eye-catching, it's most often remembered for looking cakey and dry.
But if the fashion and beauty influencer's TikTok is any indication, it may be on its way back. In partnership with YSL Beauty, she took to the platform earlier this month to showcase her take on the pumpkin spice lip trend. Little did she know her tutorial it would become a heated debate among millennials who cringe seeing old high school photos of themselves wearing concealer as lipstick.
In her impeccable bathroom, Richie Grainge began introducing her followers to the two shades of YSL's Candy Glaze lip gloss sticks she planned to use to recreate the look. After placing a few dabs of shade 14, a sheer chocolate brown, on the outer parts of her lips, she quickly blotted them together before filling them in with a lighter nude hue (shade 15). To finish off her pumpkin spice lip, Richie Grainge did what she deemed "the cherry on top" and applied a small dot of concealer to the center before blotting one last time.
Stepping back from the camera, she closes the video by noting that she's a fan of this method because it delivers a beautiful ombré lip look. As for the rest of her makeup, Richie Grainge stuck to her pared-down style with lightly fluffed brows and dark lashes.
If you're of a certain age you're probably wincing at the thought of applying concealer to your lips. During a time when nude lips reigned supreme, the complexion product became the go-to method of creating a hyper-realistic nude look. If you're not familiar with the aesthetic, TikToker Isabel Clancy is known for wearing it in her nostalgic, Y2k-themed videos.
But Richie Grainge's version feels different. By using tiny bit of concealer and applying it just to the center of the lip, the look reads modern. Instead of frosted and washed-out, it's balanced and on-trend with the model's minimalist aesthetic. This fresh take also ensures that your lips stay hydrated and won't succumb to dryness and cracking under the weighty concealer formula.
Still, the idea of Y2K concealer lips has set #beautytok in a tizzy. Many users flocked to the comments with nostalgic memories, while others recoiled at the thought of a renaissance. While it's clear that no one is begging for the return of the traditional way of wearing it, it's exciting to see Richie Grainge's subtle spin on the look. So will this be the trend's 2.0 era? Only time will tell. What is certain is that Richie Grainge will continue delivering looks that keep the internet buzzing.