Simone Ashley Saved Her Sultriest Look Yet For The Dior Fashion Show
@simoneashley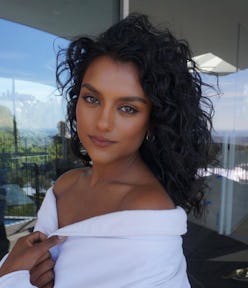 A Dior runway show would call for some spectacular guest looks regardless of location but by unveiling the Pre-Fall 2023 collection in Mumbai, the design house raised the stakes considerably. Plenty of well-appointed A-listers made their way to the City of Dreams for show, but Simone Ashley's "siren eyes" makeup and crisp white gown still managed to cut through the noise and really make a statement. Ashley's known for her ability to make even the most complicated makeup techniques feel effortless glamorous, so it makes sense that she would eventually land on the siren eyes trend so beloved on TikTok and Instagram. The bold, instantly-recognizable eyeliner look perfectly suits Mumbai's ornate cityscape, especially when paired with such an elegant gown.
Ashley's makeup was applied by celebrity artist Nikki Wolff, who routinely dreams up headline-worthy eye looks for stars like Salma Hayek, Rosie Huntington-Whitely, and Yara Shahidi. A closer examination of Ashley's liner reveals that it's laid overtop a muted yet very reflective gold shadow shade, which helps bounce the light to make her liner corners seem sharper. The upward curve of the liner's outer corners creates an eye-lifting effect, but it's what's happening at the inner corners that really defines this style. The eyeliner is extended into sharp, angular points at the inner corners of Ashley's eyes, creating a closed loop — the siren eyes signature, defined by the smoky intensity the lines create.
A pop of gleaming gold highlighter just beyond those points heightens the opulent feel of Ashley's entire look, too. Even her hair — an extra-long, slicked-down ponytail styled by celebrity go-to Rio Sreedharan — is notably shiny. Head-to-toe, she's legitimately luminous, even appearing to wear a bit of lustrous body shimmer.
Though Ashley's shared just a few quick glimpses of her outfits and beauty looks in India, the little bit fans have seen shows that she's largely sticking to high-fashion ponytails — think dramatic lengths, varying parts, and tons of shine — and dewy, radiant makeup that emphasizes the eyes. She's probably due back in London or Los Angeles any day now, but her hair and makeup on this trip are already so unforgettable.