Wait — Did Scarlett Johansson Just Execute The Single Greatest Cat-Eye Of All Time?
Mondadori Portfolio/Getty Images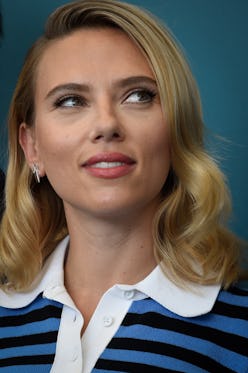 There are red carpet moments, and then there are Scarlett Johansson red carpet moments. There isn't a film premiere or glittering fashion party that can't be made better by her presence and playful aesthetics — especially when she goes all-in on drama. On Monday night, Johansson's once-signature smoky eye makeup made a grand return for the God's Love We Deliver Golden Heart Awards, at which she was an honoree. While her calf-length wrap dress is sophisticated and demure, her layered-on liner and fluttery, voluminous lashes are just straight-up sultry. How else would you describe the intense, inky cat-eye wings? How about the pop of silver concentrated in her inner corners? Even when evaluated individually, every element of this look is something special.
Johansson's never been shy about indulging her decidedly bolder side, even at the most major events. Sure, she loves a subtly sophisticated red carpet moment — she does have a uniquely Old Hollywood sensibility — but you're just as likely to see her in neon blue eyeshadow or a bright purple lipstick as anything else. Though she's kept her makeup looks (relatively) simple over the past few years, her latest sleek-and-spangly look is a true return to form.
Zooming in on Johansson's makeup from the Golden Heart Awards, a few things become clear. First, that winged flick appears to be a stripe of black eyeliner, carefully blended and blown-out right at the outer edges of her eyes for a lifted appearance. Ultra-trendy waterline liner helps define and intensify her eye color, while the lids themselves feature that sparkly, silver eyeshadow pigment all over.
Arturo Holmes/WireImage/Getty Images
Celebrity makeup artist Frankie Boyd created the dark, alluring eye look for the charity benefit, which won't surprise dedicated ScarJo fans. Boyd's behind so many of her coolest makeup moments over the years, including the elegant ads for her skin care line, The Outset.
For those with deep-set or smaller eyes, employing Boyd's liner-to-shadow ratio is a smart idea. All that streamlined black adds sultry drama, but it stays looking crip and sharp thanks to its strong contrast with the silver. With holiday party season nearly upon us, it wouldn't hurt to brush up on blending skills — make Johansson's look your paint-by-numbers guide.