This New Do-It-All Skin Balm Restores Moisture & Won't Leave You Greasy
TZR editors put it to the test.
Jessica Fields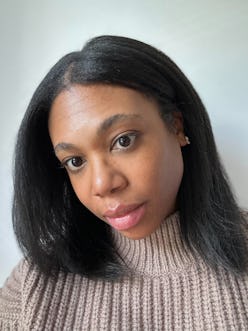 We may receive a portion of sales if you purchase a product through a link in this article.
In our series Trial Run, TZR editors and writers put the buzziest new beauty products to the test and share their honest reviews. This week, the TZR beauty team is testing The Outset's Botanical Barrier Rescue Balm.
Launched in spring 2022, The Outset built its reputation around a stripped-down approach to skin care. The brand focuses on clean ingredients, minimalist packaging, and an overall back-to-basics focus — even its name means "from the beginning." The line, co-founded by actor Scarlett Johansson and former beauty executive Kate Foster, debuted with a core three-step regimen consisting of cleanser, serum, and moisturizer. Its latest addition, the Botanical Barrier Rescue Balm, builds on The Outset's ethos of simplicity, but takes it one step further — this is one product you can apply almost anywhere.
Just like The Outset's initial launches, this new member is packed with tried-and-true ingredients that are safe for sensitive skin. The rescue balm's multi-use design restores moisture and locks in hydration wherever you need it most. For some, it may be the perfect treatment to combat chapped lips, or an ideal solution to soothe cracked cuticles, or a quick and easy way to soften rough patches on the knees.
When dry air and cold temperatures threaten dehydrated skin, there's nothing more useful than a travel-friendly product that can do it all. Ahead, TZR editors put The Outset's latest to the test. Keep reading to find out our honest thoughts.
Fast Facts
Price: $38
Size: 1.7 oz
Clean/Cruelty-Free: Yes
Best For: Those prone to dryness and sensitivity
Ingredient Highlights: Rose hip, marula, and camellia
What We Like: Absorbs quickly; non-greasy; feels hydrating
What We Don't Like: Difficult to dig out without a tool
Rating: 4/5
How TZR Keeps Score: 1/5: Making a return; 2/5: Keeping as a backup; 3/5: Finishing to the last drop; 4/5: Recommending to my group texts; 5/5: Already on auto-replenish
The Formula
Though not officially dubbed a body care product, the barrier rescue balm is the first from the brand that's designed to be used on skin both above and below the neck. The solid formula, which has the appearance of a medicinal salve, is infused with the brand's signature Hyaluroset Complex along with a blend of botanical ingredients that make it ideal for cuticles, lips, elbows, and more. Natural oils like rosehip, marula, and camellia give the balm a creamy consistency that's made to melt into the skin, instantly softening it.
Aside from the vegan, cruelty-free, nut-free, gluten-free, and petroleum-free formula, the unique product comes housed in a practical tin that's ideal for traveling and TSA lines. Far from your basic aluminum container, the top of the silver puck is embossed with the brand's signature blue wildflowers.
Our Experiences & Results
Erin Lukas, Deputy Beauty Editor, TZR
"As the temperatures continue to dip and my radiator is on in full force, I expect this little tin to come in handy. The oil-based formula is extremely nourishing for dry patches of skin (hello, the eczema on my legs), my weather-worn cuticles, and my parched lips. While the balm is a little too oily to use on my face because I'm prone to breakouts, I love that it functions as multiple products and frees up some space in my bag. Plus, it's TSA-friendly, which is always a win in my books."
Jessica Fields, Beauty Writer, TZR
"My skin is extremely prone to dryness during the winter. Just the smallest dip in temperature is enough for me to break out body oils and heavier hand creams. That said, this multi-use balm, in its conveniently packaged tin, was beyond appealing to me. I decided to bring it with me while visiting some friends in Denver and it proved to be well worth it. For starters, the solid cream-to-oil formula ensured that I wouldn't need to double-wrap it before packing. The dry air and chilly mornings were the perfect backdrop to test out the balm's many uses and assess its hydrating abilities.
My first instinct was to apply it to my lips and while it did keep them from chapping throughout the day, I found that I most enjoyed using this balm on my body. Not only did it melt into my skin and absorbed quickly, but it didn't leave me feeling greasy. I can easily see this becoming a standard part of my winter body care routine, especially helpful for any eczema flair-ups that may arise. My only issue with this is that it's hard to dig out of the tin, but that's nothing a simple beauty spatula can't fix."
Amanda Ross, Beauty Editor, TZR
"I love a 'does-anything' balm and this one arrived at the perfect time — just as temperatures dipped down into the 50s in my area. This was an ideal opportunity to try it out absolutely everywhere, but my dry lips and even drier nostril area (shoutout to seasonal allergies) seemed to really absorb it right in. The formula is amazing as a final, occlusive layer at night that seals everything up, too. Slugging is always my go-to move in the winter and The Outset balm is a great alternative to my usual petroleum jelly. And even though I wish adorable packaging had zero effect on me, I'm only human — the blue-and-white tin is adorable and feels so apothecary-y."
Maggie Haddad, Senior Social Media Strategist, TZR
"While I love fall for a multitude of reasons, fall doesn't seem to love me. Lower temperatures tend to dry out my skin and lips, and I typically spend all season searching for moisturizing products that won't irritate or break me out. This balm actually seeps into my lips rather than sitting on the surface, leaving me feeling and looking hydrated. My favorite hack has been to apply the balm before using a lip liner, and blending the products together with my finger for a natural, rosy lip look. It's been a staple in my manicure routine as well, saving my cuticles and preventing dry knuckles."
Angela Melero, Executive Editor, TZR
"Dryness is not typically something I typically struggle with excessively, but come fall, my complexion develops weird dry patches, particularly around my mouth and temples. Foundation and skin tints don't apply evenly because of said patchiness and I've yet to find a primer that creates a clean and smooth working space — until now.
I got a hot tip from a makeup artist about using a moisturizing balm as a pre-makeup essential and thought I'd test out the theory with The Outset's latest launch. To my pleasant surprise, it worked like a dream. I warmed up a bit in my hand and spread a thin layer over my face, paying extra attention to the areas with extra dryness. I then used a Beautyblender to apply foundation or skin tint (I've tried the trick with both!) and the formulas just glide over nicely and create an even, natural layer of coverage. The bonus benefit to this tip is that it simultaneously treats the parched areas of my skin so my texture is visibly improved well after I've removed my makeup for the day. This product is a game-changer and I highly recommend trying it as a primer for those days you want a particularly flawless makeup look."
Is The Outset's Botanical Barrier Rescue Balm Worth It?
If you're someone who suffers from sensitive skin or dryness come winter, you'll enjoy this balm's gentle texture and unfussy ingredients. The cream-to-oil formula melts into the skin and instantly delivers a boost of hydration. There's also the travel-friendly tin, which is not only convenient when flying, but also pretty chic to carry around. The one caveat is that the solid formula doesn't have a spatula, which can make digging out the balm a little messy, and it might be too heavy for acne-prone skin. Overall, though, Team TZR is sold.