Carrie's Style In 'AJLT' Season 2 Signals A Hopeful Outlook On Life
Here are the key fashion moments to look out for.
MEGA/GC Images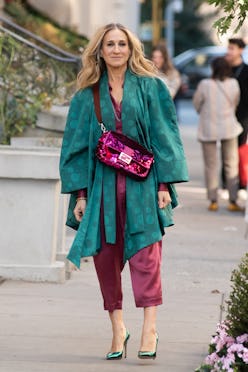 It goes without saying that the fashion is a major part of the Sex and the City franchise. In particular, Carrie Bradshaw's imitable outfits always tie into the character's story arcs and as we dive into And Just Like That... Season 2, there are crucial sartorial moments to note about her ever-evolving looks. According to costume designer Molly Rogers, Carrie's style in AJLT Season 2 centers on the idea of hope. I think this is a great word [to describe] the whole season actually," Rogers says to TZR on Zoom. "To be able to pivot and go through experiences [in a way that makes] you grow and react is a part of life." Here, Rogers is presumably talking about Big's death in Season 1 of the reboot — the single most heartbreaking moment to happen to Carrie (that is, if you don't count her being left at the altar by him in 2008).
Although Carrie is still learning to adapt to life without her husband in Season 2, at the end of episode 1 there was a pivotal fashion moment that tied back into this idea of hope and moving past her pain. If you missed this fashion easter egg, we'll explain. In the episode, the writer is prepping for the Met Ball when her dress fails to materialize and she's only left with a voluminous teal cape to wear. Needing an equally statement-worthy gown to match it, she goes into her closet to pull out a look fans all know and love: her Vivienne Westwood wedding dress. In this moment, Carrie reclaims her grief narrative by recognizing that she's strong enough to confront and move past agonizing memories, including Big's death and the whole wedding incident. "And just like that, I repurposed my pain," she said at the end of episode 1.
"This [fashion moment] is an example of how she is trying to move forward after the death of her husband," Rogers says, explaining the positive messaging behind Carrie's style choice. "She grabs a gown that wasn't necessarily connected to a happy memory, but I think we can all relate to when you lose someone, sometimes the things that they leave behind, you then look at it differently. [After awhile], they're special and more meaningful to you, whether it was a negative or positive [situation]. [The clothing] is a piece of your experience with them." The costume designer thought it was a cool sartorial moment to share with devoted fans who've followed the couple's tumultuous relationship. And just in case you were wondering — yes, the bridal gown is the same exact one Carrie originally wore in the Sex and the City movie, with some minor fixes to wear and tear of course.
As we progress into Season 2 and Carrie embraces her single life by reconnecting with an ex lover (Aidan Shaw!!), you'll see, too, that her date-night looks reflect an optimistic and sanguine attitude. "She chooses pieces to go out on a date that are expressing some mood, and she does that through color," Rogers says cryptically, careful not to give out spoilers. Luckily, thanks to on-set photos taken by the paparazzi earlier this year, we don't have to wait for the new episodes to catch Carrie's going-out ensembles.
Jose Perez/Bauer-Griffin/GC Images
In the handful of preview images we dug up, you can see she's leaning heavily into vibrant pink and blue floral frocks as well as deep blues and purples when she's with Aidan. Carrie has always loved bold colors and statement prints, but perhaps these specific new outfits allude to her feeling more joyful and hopeful as she builds a sweet romance with a former flame. "She does wear a lot of dresses or a skirt and a blouse that you can see her bra through," Rogers adds. "It is about exposing herself a little bit and being open to the [new] experiences [that come her way]."