Sarah Jessica Parker's Oversized Hair Bow Is Literally Taller Than She Is
James Devaney/GC Images/Getty Images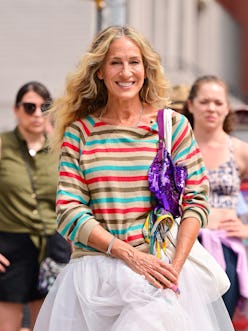 Sarah Jessica Parker has plenty in common with Sex And The City's Carrie Bradshaw, and their mutual love for a major hair accessory is near the top of the list. So many of the fictional character's most notable fashion moments involve some sort of towering headpiece (two words: the wedding), and the same can be said for Parker — just look at her recent Met Gala appearances. Last night, though, she took it to the next level. Parker's oversized hair bow instantly stole the show at the Lincoln Center's New York City Ballet 2023 Fall Gala, a jumbo version of the coquettish ribbons seen all over Fashion Week. Affixed to the crown of her head as part of a half-ponytail look, the giant bow practically has its own fanbase already, stirring up plenty of discussion online.
Parker's big ol' bow featured a few feat of black grosgrain, tied around her half-up hairstyle with extremely long, trailing tails that skimmed the tulle hem of her off-the-shoulder Carolina Herrera gown. Created and attached by hair legend Serge Normant, the accessory is a more than fitting addition for the occasion — what's more bow-worthy than the New York City ballet? And as if fans needed another reminder of her theater-kid chops, Parker shared a from-behind shot of the bow with a caption from A Chorus Line (or the Glee season four soundtrack, whatever): "Everything was beautiful at the ballet."
Gilbert Carrasquillo/GC Images/Getty Images
James Devaney/GC Images/Getty Images
The actual hairstyle Normant created for Parker deserves plenty of credit too, a sleek, shiny blowout that flows perfectly with the bow's tails and shows off all the buttery tones in her blonde highlights along the way. And while bows always feel more than a little balletcore by nature, they're especially impactful this year. At New York Fashion Week, bows were seen at Helmut Lang, Christian Siriano, Alice + Olivia, and Sandy Liang, while ribbon-adorned headbands were spotted at Paris Fashion Week's Chanel show and little bow-shaped barrettes popped up at Versace in Milan.
Cody Rasmussen for Sola Salons
Victor VIRGILE/Gamma-Rapho/Getty Images
They've also been spotted on more than few celebrities. Emma Watson, Hailey Bieber, and Emma Chamberlain all wore prim, pretty ribbons to assorted Fashion Week events over the past 30 days, which is to say nothing of all those bows seen at this year's Met Gala.
Victor Boyko/Getty Images
Once again, Parker proves that she can take on any trend, make it her own, and do it bigger and better than anyone else.