Salma Hayek's Chilled-Out Attitude Toward Gray Hair Is Worth Adopting
Stephane Cardinale - Corbis/Corbis Entertainment/Getty Images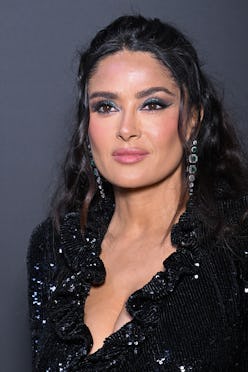 Society at large and even the beauty industry itself has taken serious strides toward correcting harmful attitudes around aging — particularly as it pertains to women and their looks — but everyone surely recognizes that there's still a long way to go. In recent years, celebrities have taken a refreshingly relaxed approach to things like grays, wrinkles, and other age-induced physical changes, which, judging by the comments on Salma Hayek's newest Instagram post, is having a trickle-down effect to their fans. Hayek's gray hair and forehead lines are prominent in her photo, a close-up selfie that shows off her stunning eye color and and luminous skin. "Me waking up and counting how many white hairs and wrinkles have crashed the party this morning," she captioned the photo, managing to still look gorgeous even fresh from sleep. Fans were quick to praise Hayek's beauty and candor, with several thanking her for helping "normalize" what should be thought of as the most normal process of all.
Hayek included a version of her caption in Spanish as well, something she often does to really drive posts' point home with her bilingual audience. This message was an important one, too. As several fans pointed out, stars all too often want to project a "perfect" image on the red carpet and social media, then deny the treatments, experts, and technology that help them look so well-preserved. Then, as fans age, they wonder why they don't look like their favorite celebrities. By getting real about her naturally graying hair and the fine lines in her face, Hayek affirms reality — and looks great at the same time.
Of course, it wouldn't be a celebrity upload without a chorus of fellow A-listers leaving their own remarks in the comments. Both Cindy Crawford and Olivia Wilde took the time to hype their Hollywood colleague up with some emoji-accented praise.
Hayek isn't alone in her positive outlook, either. Earlier this week, Jennifer Aniston casually showed off a stripe of silvery gray hair over on her Instagram. Back in March, 35-year-old Hilary Duff shared a shot of her own grays, playfully calling them out for their wiry strength on her Story.
With so many celebrities embracing a more natural, realistic viewpoint on aging, expect shifting attitudes in everyday life, too.