Rihanna's Super Bowl Performance Doubled As The Greatest Fenty Ad Ever
Kevin Mazur/Getty Images Entertainment/Getty Images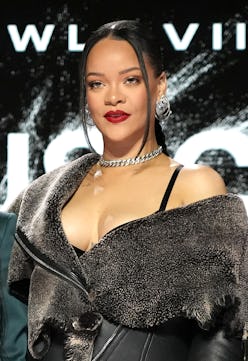 For months now, everyone's joked about the football game that happened to share a stadium with the Rihanna concert — but even after so much speculation and excitement, did anyone think it would be this unreal? Her Super Bowl performance struck a perfect balance between what sports fans and pop fans wanted and, in true Rihanna fashion, the show was about much more than just music — it was a full-fledged experience that proved (among other things) how she turned her Fenty Beauty line into a global empire. Rihanna's Super Bowl hair and makeup incorporated some signature touches and put her products through the ultimate endurance test: a 12-song set list, non-stop choreography, and death-defying flying platforms.
For the Apple-sponsored half-time show, Rihanna took the stage in a head-to-toe red ensemble that included full-length gloves, ruby sneakers, and a matching belt. Her hair and makeup perfectly suited the glamour-meets-athleisure aesthetic. She partnered a multi-strand braided ponytail with a blue-toned red lipstick, revealed to be the Fenty Icon Velvet Liquid Lipstick in The MVP. "That red stage called for the ultimate Rihanna red lip," shares Priscilla Ono, Fenty Beauty Global Makeup Artist, in a new press release. "We wanted her beauty look to celebrate this moment and be a true reflection of her timeless beauty." Created specifically in homage to Rihanna's favorite lip color, the lipstick shade is similar to the Fenty Stunna Lip Paint worn for her Super Bowl pre-show press conference.
Adding a futuristic element to her look, Rihanna's silver chrome eyeliner winged out over her lashes, matching the silver hardware in her belt as well as the platinum and diamonds jewelry snaking up her ears. She's the latest celebrity to join in on the statement eyeliner trend, which has already been spotted at Fashion Week and on the red carpet more than a few times already this year. In that same press release, Ono shared that soft matte skin was equally crucial to Rihanna's Super Bowl makeup. In fact, Rih even paused mid-strut to touch up her powder — it's the Fenty Invisimatte Instant Setting + Blotting Powder, naturally — ensuring her complexion stayed shine-free on stage.
Rihanna's Super Bowl show hairstyle was similar to her look at the press conference, too. Trading in a several-strand braided ponytail for several smaller, hip-length braids, she left two pieces free on either side of her face to frame it in classic '90s-'00s style.
While the performance left many longing for tour, at least she delivered one unreal look to keep everyone inspired in the meantime.