Let These Priyanka Chopra Jonas Looks Inspire Your Summer Style
We all need a statement dress now.
Lauren Dukoff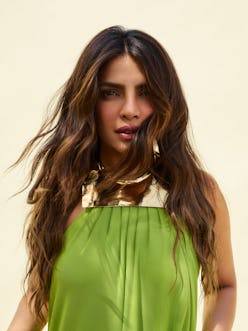 We may receive a portion of sales if you purchase a product through a link in this article.
Priyanka Chopra Jonas is not afraid to have fun with fashion. From the the lime-green feathery Valentino cape worn to the Citadel April premiere to the exaggerated ruffle gown donned at the 2023 Met Gala (also Valentino), 2023 has been a particularly memorable style year for her. Most recently, the star demonstrated her ease with embracing statement looks in a photo shoot with TZR. The Love Again actor posed for the cameras in the lush mountains of Malibu, California while wearing some risk-taking pieces, like a side-baring sea foam green dress from Frederick Anderson, and a completely sheer crystal-embellished gown from Interior. And she seemingly didn't even bat an eye when standing next to a horse while wearing a verdant Michael Kors Collection gown.
Perhaps Chopra Jonas' fearlessness with fashion simply comes down to her 20-plus years of experience in the industry. "I love being on the red carpets; I always have such a great time and I don't take them too seriously," she told Savoir Flair in 2021.
Scroll ahead to see the actor model glamorous gowns in an unconventional setting — perhaps her no-holds barred approach will inspire you to step outside of the box with your own style choices this season.
Look 1: A Crystal-Embellished Dress
If wearing seashell accessories feels like too literal of a take on the mermaidcore fashion trend, opt for this crystal-embellished gown instead. The shimmery Interior number is like a very, very chic take on a fisherman's net.
Look 2: A Cutout Dress
Chopra Jonas is an intrepid dresser and as such, she didn't hesitate to slip on this hip-baring gown from Frederick Anderson. Adopt the same mindset and opt for a similar cutout piece from LaQuan Smith, below. Then, complete your party-ready look with a statement watch.
Look 3: A Colorful Summertime Gown
Sans horse and you'll find that the actor's Michael Kors Collection dress, which is still available to shop, makes for an elegant wedding guest look or summer vacation outfit.
Look 4: An Off-The-Shoulder Dress
Brides-to-be seeking a bit of flair and drama in their wedding day looks will feel instantly drawn to Chopra Jonas' off-the-shoulder draped Christian Siriano dress. Although this exact design is not available, you can channel a similar vibe with the Taller Marmo look, below.
Look 5: An Intricately Detailed Dress
There are other ways to incorporate a tantalizing design into a dress without cutouts along the hip. Chopra Jonas' Dion Lee look with stringy threads on the bodice is a good example of how you can show just a hint of skin without feeling overly exposed. Complete the outfit with a luxe cocktail ring and you're ready to mingle at your next soirée.
Top image credits: Michael Kors Collection dress
Photographs by Lauren Dukoff
Styling by Jan-Michael Quammie
Hair: Mashal Afzalzada
Makeup: Mary Phillips
Manicure: Britney Tokyo
Talent Bookings: Special Projects
Video: Samuel Miron
Associate Creative Director, Video: Samuel Schultz
Photo Director: Alex Pollack
Editor in Chief: Kathy Lee
SVP Fashion: Tiffany Reid
SVP Creative: Karen Hibbert