There's Nothing Quiet About Priyanka Chopra's Glamorous 'Citadel' Premiere Beauty Looks
It doesn't get better than this.
David M. Benett/WireImage/Getty Images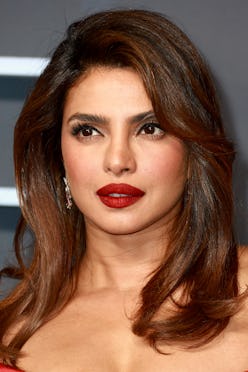 Is anyone else's For You Page a nonstop carousel of "quiet luxury" this, "silent glamour" that? If you're totally over it already, welcome to the team. The less-is-more approach might work well for Old Money socialites, but when it comes to consistently show-stopping celebrities, palpable opulence is practically the name of the game. Priyanka Chopra's Citadel tour hair and makeup is like a globe-spanning case against the quiet luxury movement as a whole. Rather than stick to somber color palettes, simple hairstyles, and barely-there makeup, the always-fabulous Chopra showed off her impressive aesthetic range with a full-on parade of bold, beautiful looks that all scream "star power." To borrow a famous phrase, a diamond's simply gotta shine.
Chopra's new Amazon series doesn't premiere 'til April 28, but the cast and crew got a jump on promotion way back at the start of the month. Her first look of the whirlwind tour, seen at a Citadel photocall in Mumbai, set the tone for everything to follow with shimmery glitter eyeshadow, velvety lipstick, and a textbook blowout with an ideal amount of volume. Somehow, the red carpet appearances that followed managed to continually up the already-towering ante. Here, explore all of Chopra's deliciously glamorous press tour looks — nothing quiet about them.
Metallic Monochrome
For Chopra's first Citadel commitment stateside on April 25, the star went for a subtly coordinated look that pulled different shades of purple and combined them. The cool, berry color in her glossy, balm-finish lipstick is a perfect tonal match for her metallic gown, seen again in her temple-sweeping blush. Her sleek, extension-enhanced raven hair helps the look feel even more regal thanks to some careful teasing at the crown.
Stiletto Liner & Supermodel Hair
Count the trends Chopra's nailed here at Citadel's Rome premiere: a marabou-trim robe in "Gen-Z green", stiletto eyeliner, curtain bangs, lifting blush, and a tousled '90s supermodel updo. The sharp inner corners of her eyeliner, applied by celebrity makeup artist Morgane Martini, only heights the sultry factor of her Thibaud Salducci-styled updo.
All-Over Orange
One of Chopra's greatest aesthetic talents is just how well she wears all-over color and the monochrome trend as a whole. For another stop in Rome, her Day-Glo orange blazer met its match with a matte orange lipstick — look closely, though, and notice how the corners of her lips are shaded with a slightly deeper color for added dimension and fullness. Paired with a bouncy half-ponytail, she's all business.
Chrome Tones
Here, the look that started it all. Luminous in spangly silver eyeshadow and a gold metallic gown, she commands the stage during a Citadel photocall and panel in Mumbai. The best part, though, might just be her highlighted blowout — those semi-defined curls are everything.
Old Hollywood Siren
It would work at the Oscars, it would work at the Grammys, it definitely works at the Citadel global premiere in London — Chopra's red-on-red (on red carpet) moment might go down as one of her best looks ever. The semi-matte finish of her Buster Knight-applied lipstick is pure Old Hollywood, but kept so modern with a deep part and swoopy curtain bangs styled by Thibaud Salducci.
Extreme Wings
Chopra's always willing to experiment with big hair and makeup trends, but she never does so at the expense of her own self-expression. For an early press tour stop in Mumbai, Chopra paired a very deep side-part by hairstylist Priyanka Borkar with an aqua gown with blue eyeshadow. But makeup artist Daniel Bauer gave the trendy makeup color a Chopra-y twist by extending the eyeshadow out into dramatic, cat-eye wings.