PSA: Princess Diana Had A Very Well-Rounded Swimsuit Collection
She covered all her bases.
Tim Graham Photo Library/Getty Images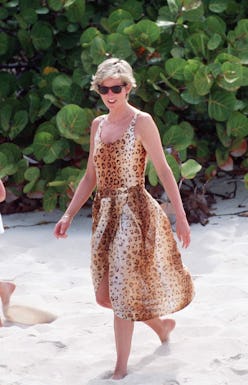 We may receive a portion of sales if you purchase a product through a link in this article.
To this day, Princess Diana still remains deeply embedded in the pop culture zeitgeist. Her style, in particular, is what resonates with those who love and follow the royal family. You might recall everyone's obsession with her iconic biker shorts outfit circa 1994 or her infamous black revenge dress from the same year — no matter which looks stand out to you, it's impossible to deny her fashion legacy. This extends all the way to Princess Diana's swimsuit collection, too, as her stylish bikinis and one-pieces continue to inspire her fans today.
If you need some swimwear inspiration ahead of your next pool day, look to the royal's one-piece animal print swimsuit or her bright coral bikini — to name a few — for guidance on what designs to buy. She proves that you can never go wrong with investing in a classic leopard print or solid-colored piece free from all the extra bells and whistles. Sure, you can still rock the thong bikini trend or channel your inner surfer girl with a rashguard this season, but as you'll see below, Princess Di's classic yet playful takes on swimwear ensures the pieces won't be passé by the following year.
Without further ado, see our favorite swimsuit moments from the late royal along with accompanying products to shop should a piece, or two, catch your eye. By the time June 21 rolls around, the official day of summer, you'll be all dressed and stylish for the pool.
An Animal Print One-Piece
Princess Diana never shied away from making a bold fashion statement. Here, she wore a one-piece that featured multiple animal prints on one swimsuit — it appears to be leopard/cheetah spots mixed with tiger stripes — while on vacation in St. Tropez in 1997. Considering celebrities like Demi Moore and Emma Roberts are already giving leopard prints their stamp of approval for the season, you'll certainly need to invest in the style, too.
A Neon One-Piece
Thinking about getting a neon swimsuit? Take after Di and opt for a two-toned vibrant purple and green number, though you can ease into the vivid look by rocking just a single shade. Above, she wore her one-piece with a matching sarong while on a getaway to St. Tropez in 1997.
A Graphic Bikini
A multicolored pattern bikini is a must have for those seeking to make a splash with their seaside outfit. Here, Princess Diana wore a bandeau style top with matching bottoms while in Majorca, Spain in 1988. Seek out a more watercolor-inspired or abstract printed two-piece to channel the royal's exact outfit.
A Colorful Bikini
Take a note from Diana's Caribbean look in 1993 and aim for a pop of color in your swimsuit while still keeping it relatively minimal. The bright coral shade she chose gives summer energy while the silhouette overall is so timeless. The royal didn't appear to wear any jewelry and instead rocked simple black shades — as cliché as this may sound: less is more.
A Black One-Piece
A black bikini or one-piece should be in everyone's swimwear arsenal. If you feel that the style is too minimal and modest, look for sultrier details like a low back, plunging neckline, or cutouts. Here, the royal opted for a low-back suit while at Indian Castle Beach in Nevis in 1993.