Two Of Princess Diana's Most Iconic Fashion Pieces Are Up For Grabs
For the right price, of course.
Tim Graham Photo Library via Getty Images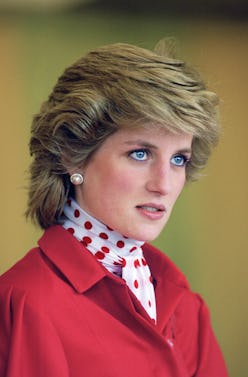 We may receive a portion of sales if you purchase a product through a link in this article.
Earlier this year, Kim Kardashian acquired a pendant that once belonged to Princess Diana at a Sotheby's London auction. The purchase made headlines and served as a reminder of just how much people still love the royal and are influenced by her style legacy. Every Princess Di fan likely dreams of owning a piece from her wardrobe — and now, the lucky few will have another chance. This week, Sotheby's New York unveiled its inaugural Fashion Icons sale, which contains 10 various iconic fashion and accessory pieces up for bidding. Princess Diana's sheep sweater and her black velvet gown are part of the exclusive auction.
Currently on the Sotheby's website, the exact red sheep sweater Princess Di wore back in 1981 is estimated to fetch between $50k to $80k. For my fashion history buffs: this whimsical look was one of the first designs by Sally Muir and Joanna Osborne of Warm and Wonderful knitwear. According to Sotheby's, the royal loved this sweater so much that when she initially damaged it after a wear in 1981, she requested a repair or replacement.
Of course, when Princess Di asks, you don't say no, so an entirely new sweater was knitted for her. She stepped out in the fresh piece two years later, styling it with white pants and a collared shirt while at a polo match in Windsor. Fast forward decades later, in March 2023, Osborne was looking for an old pattern in the attic when she spotted a small box. Upon opening it, inside was a cotton bedspread and the sheep sweater the princess had originally returned back to them for mending — surprise! This top is now on auction and given its history, we're sure someone will claim it quickly.
Princess Diana in 1981.Tim Graham Photo Library via Getty Images
Princess Diana in 1983.Princess Diana Archive/Getty Images
Meanwhile, the second Princess Diana look that you can bid on is her velvet black and white gown designed by Murray Arbeid. According to the description on Sotheby's, the number is lightly boned "with a white taffeta quasi-mermaid silhouette supported by layers of tulle petticoats." Di wore this dress several times, the first being in June of 1985 to Prince Edward's 21st birthday party, where the theme was "A Midsummer Night's Ball." The glamorous outfit was definitely fitting for the grand occasion. Then in December of that year, the royal repurposed the look for a banquet in London, styling it with a sapphire and pearl necklace, black gloves, and a feathery accoutrement. (Is it a bag? An outsize corsage? While the TZR team is not 100% sure, it certainly is a statement piece.)
Princess Diana in 1985.Tom Wargacki/WireImage
A view of the gown from the side.Tom Wargacki/WireImage
In addition to these two royally-approved items, the auction will feature a selection of Hermès bags from actor Lauren Bacall's personal collection, a 1950s lace LBD worn by Michelle Obama, and a vintage bird feather headpiece, which Sarah Jessica Parker recently donned in And Just Like That... Season 2. As for how to bid on any of the 10 items, you can place your bets starting Aug. 31 through Sept. 14.
However, if you don't casually have thousands of dollars laying around (same), you can still partake in all the fun by seeing the actual pieces on display at Sotheby's New York galleries from Sept. 7 to Sept. 13. Plus, you can shop similar pieces to Princess Diana's iconic looks, ahead. A fun fact to note: In 2020 Jack Carlson of Rowing Blazers asked the original designers of Warm and Wonderful knitwear to license the sheep design for his own fashion line and they agreed. In other words? You can essentially get a replica of Princess Di's favorite knit for $149 just in time for fall.