Nicola Peltz Beckham's St. Tropez Outfit Is Pure 2000s TRL Perfection
Think vintage Xtina, but in the French Riviera.
@nicolaannepeltzbeckham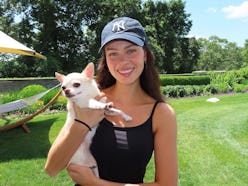 We may receive a portion of sales if you purchase a product through a link in this article.
Celebrities are taking full advantage of high summer by escaping to the Mediterranean for a relaxing vacation. Earlier this week, Michelle Rodriguez soaked up the sun in Sardinia while Leonardo DiCaprio and Tobey Maguire hung out together in St. Tropez — the coastal destination is a hot spot for celebs so the duo were hardly the only famous faces on the scene. In particular, all eyes have been on Brooklyn and Nicola Peltz Beckham, who arrived in the resort town last Thursday and have been wearing head-turning Riviera-ready looks ever since. A sartorial highlight? The micro denim miniskirt with a lacy crop top from Rumored and cork wedge silver sandals Nicola wore for a yacht outing on July 24.
Most anyone who lived through the 2000s-era of fashion will be quick to clock how closely the look references the era. Nicola's bottoms were evocative of the Bruce Weber-shot catalog era of Abercrombie & Fitch — the only missing accouterments here were leggings and a pair of UGGs — while her cork wedges personally spoke to my noughties sense of fashion. (I had a similar pair of shoes circa 2005 from Payless that I'd haphazardly walk-slash-trip around in.) The star did elegantly update her ensemble for 2023, however, by styling it with a silky headscarf and a very stylish Prada raffia bag, which matched her braided skinny belt (a piece you'd also find inside an A&F store back in the day).
Of course, Nicola is neither the first — and likely won't be the last — celeb to pay homage to the noughties. You'll recall that last year Kendall Jenner channeled a similar vibe in her J'adore Cowboys tank and denim miniskirt. And the list of A-listers who've worn Miu Miu's viral Spring/Summer 2022 micro bottoms (Nicole Kidman, Emily Ratakowski, and Sydney Sweeney for starters) is too long to count. The look, love it or not, is sticking around as new generation of consumers continue to embrace it for themselves.
With plenty of reference images out there, it won't be that hard for anyone to pull off the 2000s aesthetic too. As proof, we dug up some nostalgic photos from yesteryear like Christina Aguilera's look at the 2002 MTV Video Music Awards or Kelly Rowland's TRL outfit from 2007 (now this is a throwback). Nicole Richie's sweater, miniskirt, tights, and leg warmers look truly sums up early aughts fashion in a nutshell.
Donato Sardella/WireImage
Are you ready to give the micro denim miniskirt a try? If yes, add your favorite from the list below to cart.