Maude Apatow Followed Her Euphoria Friends' Leads & Dyed Her Hair A Brilliant Shade Of Red
Pumpkin spicing thing up.
@kaleteter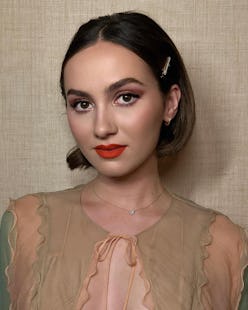 No one can resist the siren song of an autumnal hair color once October rolls around. Eventually, the cozy allure of shades like mushroom blonde, frosted brunette, and cowgirl copper comes for everyone — it's just part of participating in the season, like carving a pumpkin or binging Ari Aster movies. Maude Apatow's new ginger hair color makes her the latest star to join in on the fall beauty fun. Her take is a zesty, shimmery shade of soft red just debuted at Paris Fashion Week. On the one hand, the fresh update to her sharp, short bob is remarkably trendy. On the other, though, it's something of familiar territory: a near exact match to her mother, Leslie Mann's own signature shade of natural red hair.
Fans got their first glance at Apatow's just-dyed hair as she arrived in Paris to take in the Stella McCartney and Valentino shows. At both runway events, she channeled her signature, retro-inspired charm into her ensembles, like thick headbands and mod collars. When photographed outside, her ginger red hair color seems especially bright, nearly an electric shade of pumpkin spice. Most of the time, though, it looks far lighter and softer, especially standing next to her strawberry blonde mother.
Marc Piasecki/WireImage/Getty Images
Pascal Le Segretain/Getty Images
While Apatow didn't reveal on social media exactly when she took the plunge — no "I did a thing" Instagram Stories from this Gen Z star — fans at least know it happened in the past few weeks. Her chin-length bob, though pulled back into an updo, was much darker on September 14 at the Vogue World party in London. Followers also know that Apatow just wrapped a yearlong stint starring in Cabaret on the West End, a role that required her to wear a wig every night. With the job finally concluded, perhaps she was ready to make a big aesthetic move?
It also could have been her Euphoria buddies that inspired the change. So far, Zendaya, Sydney Sweeney, and Barbie Ferreira have all tried out red hair colors in some form or fashion, all somewhat recently, too. Oh, to be included in that particular group chat.
If you too have been waffling on a fall-friendly hair color, take this as a sign — just do it.