For Women With Fine Or Thinning Hair, Voël Extensions Are About More Than Long Ponytails
Founder Kim Gueldner breaks it all down.
@voelhair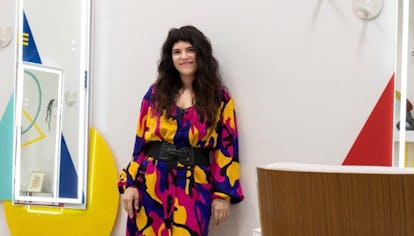 It's among the more frustrating beauty conundrums, one that's often about much more than simple aesthetics. National surveys of the United States report up to 50% of women experience fine, thin, or thinning hair — but so, what's the solution? Conventional wisdom directs women to augmentative hair pieces, but those can often do more damage, further exacerbating the issue. For Voël Hair Studio founder Kim Gueldner, these common hair types make up the majority of her client roster. By combining her years of expertise with creativity and compassion, Voël's extensions for fine hair have become more than an industry disruptor — for many of the studio's clients, the concept is legitimately life-changing.
Even before she developed the extensions, Gueldner's career pedigree definitely lined up with her innovative streak. She's worked in some of the most prestigious spaces and with high-profile stars like Katy Perry, Vanessa Hudgens, and Amy Schumer. After 10 years of constant traveling to work with on-tour musicians, Gueldner was ready for a more rooted next chapter, she tells TZR. Upon moving to New York and returning to work at a hair salon, she had an idea. "I had always known how to do extensions," she says. "I know how to work with any wig, integrated falls, all that kind of stuff. And it just so happens that 90% of my clientele were women with fine hair."
How The Extensions Work
Gueldner shares that her clients would often ask about extensions, but the conventional process — voluminous, heavy wefts bonded to and hanging off of thinner, weaker strands — can be damaging or uncomfortable even for denser, thicker hair types. "There wasn't an extension, really, for fine hair," she explains. "So I created it, basically just so I could use it on my clients." Gueldner made specially designed, bespoke hand-crafted extensions for four years before expanding it into a full-fledged company, scaling it up as word got out and interest skyrocketed.
Gueldner's process is meticulous: "I make little baby hand-tied wefts and I make them super thin so they match the density of your hair," she explains. The extensions definitely add more, she says, but there's no risk of overload here — "I'm not putting a ton of hair on your little bit of hair." The goal is to add smaller amounts of extension hair to the existing strands as to match the client's natural hair density, moving altogether for a natural, seamless look. She even perms some extensions to match individual hair types and textures. The wefts are attached to the client's strands using microbeads, sometimes called microlinks, which can be opened and closed with a tool on the spot. This eliminates the need for tapes and adhesives that damage both real hair and extensions. And by using microbeads, Voël's 100 percent natural hair extensions sourced from Europe can be installed more than once.
"I also try to stress to new clients, you're not going to get a ton of hair — you're not going to walk out with this horse's mane of hair that some women really like to have," Gueldner adds. "This is more for women that just want to look natural, and want something more natural, and don't necessarily want people to notice that they have extensions."
Even now that Voël's studio locations and hair extensions in general have exploded in popularity, Gueldner and her very small team make everything by hand, in-house.
How To Care For Extensions & Fine Hair
Along with her custom extensions, Gueldner is big on hair health education for each of her clients. Working with so many women who have fine strands, she explains that there are often misconceptions around or aversions to applying products. "With the extensions, you have to use product because the hair I use is very real and minimally processed — it absorbs product [and] wants that moisture just like normal hair," she explains. To maintain them, she has her clients commit to practices like using deep conditioners and blow drying less often. "All of these things help [clients] not only take care of the extensions, but in turn take care of their own strands. It's so interesting that a lot of women with fine hair are hardest on their hair."
Expanding The Extensions Conversation
Naturally, someone like Gueldner isn't content to keep the innovative approach exclusive. Since 2017, she's traveled around the country educating hair professionals on Voël extensions and her careful technique, which she turned into an online course when the COVID-19 pandemic hit. Now, her New York studio operates as something of a flagship, while certified Voël stylists at other salons service clients across the country. But even still, Gueldner has one eye fixed on the next chapter, too. "It's been very challenging to start a business, especially when you're going into a multibillion dollar industry. I really tried to take things slow, step-by-step when going through everything," she explains. "And it's the same with ramping up production. When that time comes, it will definitely be something I would love to do."
Working in such a customer-facing role isn't without its serious and distinct challenges, but Gueldner is driven by the often emotional reaction clients have to their new hair. "When you really do see someone's smile because you've just made their day or week better is just so great. I have one client that said that she never wore her hair down in front of her boyfriend [before the extensions]. It just makes me so happy."