Margaret Qualley Makes A Strong Case For Bridal Flats & We're Sold
Jacopo Raule/Getty Images Entertainment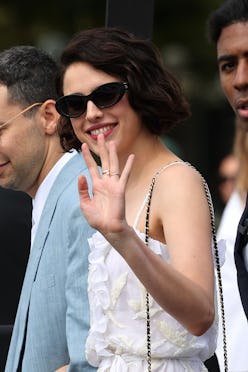 We may receive a portion of sales if you purchase a product through a link in this article.
Over the weekend, love was in the air. On Aug. 19, Margaret Qualley and Jack Antonoff tied the knot in Long Beach Island, New Jersey which you're likely already aware given the swarms of headline-making attempted wedding crashers who flooded the area. But despite the chaos outside, the lovebirds held an intimate star-studded gathering, with famous friends like Taylor Swift, Zoë Kravitz, and Lana Del Rey by their side. Looking absolutely breathtaking, Qualley wore a slip dress and bridal flats for the big day. Indeed, the Maid star skipped classic heels in favor of nostalgic Mary Janes — though, the untraditional wedding day footwear didn't feel out of place for the special occasion.
Qualley, who is the daughter of actor Andie MacDowell, went with elegant white shoes from Chanel, according to People. Considering the 28 year old was once a Chanel bride, meaning that she was chosen to model the final runway look at its Fall 2021 Haute Couture show, the French fashion house was definitely an apt choice to wear at her real-life wedding. The toe area of her bridal shoes was covered in crystals, which added some subtle sparkle to her understated outfit. And because the actor's slinky gown grazed her ankles, everyone could see the luxe flats. As if Qualley's ceremony look wasn't stunning enough, she took the chic style moment a step further by finishing with dainty drop earrings.
Qualley is neither the first nor the last celeb to opt for comfortable shoes on their special day. For starters? In 1969, Yoko Ono married John Lennon in a pair of white tennis shoes. Meanwhile, in 2013, Keira Knightley wore pink ballerina flats at her South of France ceremony. And it's hard to forget Serena Williams' Swarovski-heavy Nike Cortez kicks for her 2017 wedding. As for the next A-lister to wear a heel-free silhouette? We'll just have to wait and see.
Should you be getting hitched soon, consider forgoing heels for flats as well. Below, we've highlighted a few styles reminiscent of Qualley's ceremony look. Your feet will thank you later.