Lizzo's Concert Makeup Covers *Every* Current Trend — And Then Some
@iwantalexx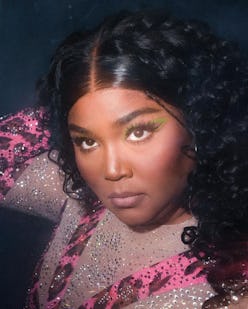 Lizzo's The Special Tour has been nothing short of legendary — and for a few different reasons, too. You've likely seen some of the unforgettable moments circulating on internet (like when she oh-so-casually played a centuries-old crystal flute), but inevitably noticed all of her fun, colorful stage makeup and hairstyles along the way. Her creative bond with makeup artist Alexx Mayo is already legendary, but Lizzo's tour looks are like a testament to their power as a pair. Mayo's meticulously documented all of the memorable eye makeup, glitter embellishments, face gems, and statement lipsticks used on-stage, which is fortunate for fans — Lizzo's concert photos happen to double as a full-on encyclopedia of trendy party and festival season makeup quite literally designed to turn heads and stand out.
Together with celebrity hairstylist Shelby Swain — who's been responsible for the tour's lush curls, candy-colored wigs, and sleek updos alike — Lizzo's glam team has proven once again that they're among the very best in the game. Ahead, TZR rounds up some of the very best beauty moments from Lizzo's global tour, from the delightfully over-the-top to the classically glamorous. Frankly, both style categories are equally worth recreating as soon as possible.
Starry 'Freckles'
It simply does not get cooler than Lizzo's smattering of black stars, inspired by a celestial headpiece worn by Old Hollywood star Hedy Lamarr in the film Ziegfeld Girl. At once overtly glamorous and so fun-filled, try this one out with a face stencil immediately.
Glittery Lips
A well-chosen compliment to the sophistication of her voluminous natural curls, Lizzo's wine-colored glitter lipstick is so subtly shimmery — especially as Mayo expertly decided to leave the rest of her face relatively matte and neutral.
Sunset-Colored Speckles
What's festival season without some super-trendy spots? For a tour top in Germany, Lizzo's hair was sleek and straight, while her makeup took a turn for the more colorful. The blend of warm pink blush, yellows, and oranges feel like a self-contained sunset, but it's the halo of spots around her eyes that really take the look to the next level.
Bold Blush & Blues
The dialed-up powder blues and bright pinks of Lizzo's Belgium tour stop makeup are a brilliant modernization of a quintessential '70s trend, made all the better by the addition of long, defined falsies and retro, center-parted barrel curls.
Stormcloud Silvers
Glasgow got a serious treat in the form of futuristic silver hair and makeup, proving Lizzo would be a top pop star in the year 2023 or 3023. The ultra-long, super-sleek wig had so much shine and movement that it practically was its own on-stage prop, while even the nosebleeds could spot the twinkle from her shimmery double-winged eyeliner.
Icy Blue Glitter
Few color schemes look as striking as an icy shades of blue — and the extra dimension of glitter concentrated on Lizzo's lids and inner corners really make this on-stage look pop. It makes sense that such instantly-iconic eye makeup was planned for the very first evening of the tour.
Shades Of Green
Green eyeshadow is trending in every sense. Fellow celebrities like Zendaya and Vanessa Hudgens have been loving the color in every shade for commanding makeup moments, and Lizzo incorporates several of them into her full-scale cat-eye. Plus, Mayo topped the look with a fluttery pair of winged lashes that further emphasize the lifted effect.
Barbiecore Eyes
Mayo might be the be-all-end-all of color pairing experts — not to mention how satisfyingly seamless that blend is. For the Boston leg of Lizzo's big tour, Mayo created a warm blend of bright pink shades through the eyes, cheeks, and lips to form a cohesive, Barbiecore look. The similar tones keep everything in perfect harmony while still managing to make her individual features pop.
Purple Wings
Selling out Madison Square Garden twice is queen behavior, which makes Lizzo's royal purple makeup the perfect fit. Plum, grape, and electric purple shades combine with a burst of glitter in the inner corner to make her eyes sparkle, and those complementary hair streaks are an ideal finishing touch.
Fiery Tones
Lizzo's a Taurus, but you'd be forgiven if you thought she was a fire sign. These sunset-colored tones — especially the illuminating pop of metallic gold in the inner corners — are fiery and feisty, but that gorgeous, satin-finish red lip is pure lady.
This article was originally published on