Lindsay Lohan's Velour Tracksuit Is Such An Epic Throwback To Her 'Mean Girls' Days
James Devaney/GC Images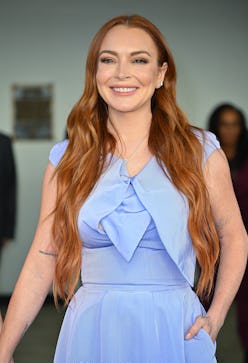 We may receive a portion of sales if you purchase a product through a link in this article.
The popularity of velour tracksuits has ebbed and flowed in fashion since the early 2000s. You'll recall every star of the early aughts, from Paris Hilton to Britney Spears to Jennifer Lopez, seemingly owned Juicy Couture's velvety bedazzled sets, often in a bright poppy hue like pink. The style, to this day, still continues to have a nostalgic hold on everyone — remember when Timothée Chalamet rocked a pink Juicy hoodie in GQ in 2020 or when Ganni dropped a collab with the label last year? — Lindsay Lohan, included. This week, Lohan sported a pink velour tracksuit from Aerie and effectively transported everyone back to 2004.
For those who can't quite put their fingers on what that year represents — not only were tracksuits trending as a wear-everywhere outfit (they even popped up on red carpets!), but it was also the year Mean Girls came out. Lohan, who played protagonist Cady in the movie, sported a few different tracksuit looks throughout the film while Amy Poehler, who played Regina's mom, famously rocked her pink co-ords while serving the girls drinks. (Cue the line that will forever live in your head: "Hey, you guys! Happy hour is from four to six!") Velour tracksuits, Mean Girls ... both topics have become a part of the 2000s pop culture and fashion zeitgeist no one can seemingly escape, even in 2023.
In addition, as seen in the photos above and below, Lohan's always had a personal penchant for tracksuits — she wore a teal version while attending the 2002 Children's Choice Award — as did her celebrity pals back in the day like Hilton. The socialite wore a baby blue Juicy number while arriving at Melbourne Airport back in 2008.
Jim Smeal/Ron Galella Collection via Getty Images
Kristian Dowling/Getty Images
If you want to relive the early aughts style trends — or simply want a cozy set to wear at home/while running errands — you can scoop up Lohan's exact pink set from Aerie for less than $75 ahead. The look even comes with a matching bandeau top should you want to reveal a hint of skin. Keep your eyes glued on celebrities and the runways this season, too, as this won't be the last time you see or hear of velour tracksuits: they're back.