This Drugstore Root Spray Is The Secret Behind Lily James' Retro Bangs Look
Phillip Faraone/GA/The Hollywood Reporter/Getty Images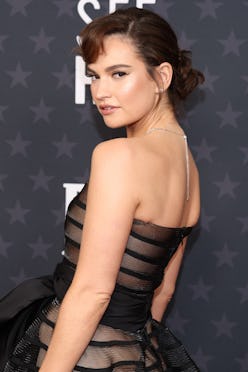 We may receive a portion of sales if you purchase a product through a link in this article.
The glittering looks from the 28th annual Critics Choice Awards were all anyone could talk about this weekend, and it looks like the fanfare is still going strong — but with beauty and fashion moments of this caliber, it's only natural. While so many of the night's red carpet moments partook in buzzy of-the-moment beauty trends, the very best combined current crazes with retro motifs in a nod to Old Hollywood. Lily James' 2023 Critics Choice Awards look is the perfect example, too. By blending reliable products, time-tested techniques, and a remixed homage to one silver screen icon in particular, James landed on every best-of list of the evening.
According to celebrity hairstylist Halley Brisker, who often works with James along with other A-listers like Julianne Moore and Ana de Armas, the planning process leading up to a big event or awards show is always pretty collaborative. "I tend to have an initial idea and then between Lily and myself, we discuss, edit, progress and arrive at something we feel is perfect for the occasion," Brisker explains to TZR. For the Critics Choice Awards, Brisker says, the end goal was a classic yet pared-down silhouette partially inspired by Audrey Hepburn and her famous pair of short, gamine bangs.
James' Critics Choice look was a highly-anticipated one considering her status as a nominee and her excellent track record of standout award show gowns, hairstyles, and makeup choices. The hype was especially heightened as the Golden Globes were just days earlier — but if anyone can shake things up week over week, it's James and her team of trusted beauty experts.
Using a slew of best-selling Nexxus hair care products, Brisker says the base of this style is a great blowout, but without too much volume. This makes the hair extra-shiny by flattening the strands' cuticles, he explains. Prep work is always key before going in with any heat or styling tools, so Brisker primed James' hair by washing with the Nexxus Unbreakable Care Collection's shampoo and conditioner, followed by Nexxus Unbreakable Care Root Lift Thickening Spray ahead of blowdrying. To further maximize the shine, Brisker tells TZR that a flat iron on medium heat will enhance the glossy effect.
"From there," Brisker says, "a sleek shape playing with Hepburn silhouettes was our objective." After tucking the blown-put hair into a low ponytail, Brisker shares he used bobby pins to create deconstructed hair rolls, locking them into place with the pins. "Have fun with this and don't stick to any rules, it just needs to be an aesthetically-pleasing shape and you can really mess with it while spraying pieces into place," he adds.
James' Hepburn-style bangs are undoubtedly the centerpiece of her look, so Brisker took special time and attention to make sure they stayed perfectly-shaped all evening. After teasing the bangs at the root, he allowed them to fall into placer across the forehead before manually arranging them, locking it all into place with the Nexxus MAXXIMUM Finishing Mist to hold the shape.
Brisker says the top tip for nailing the look at home is to assess it from all angles to make sure everything us in place and working in harmony. "Playing should be fun and this is very much a silhouette-oriented look capturing a mood and an era!" To finish up the look and suit her retro-inspired hairstyle, James' soft, sultry makeup was applied by Sofia Tilbury using Charlotte Tilbury products — including the just-launched Hollywood Glow Glide Face Architect Highlighter in Champagne Glow, of which James is the face. Tying it all together is James' radiant spray tan, courtesy of Jenni Blafer (also known as Sunkissed By Jenni), who used SOL By Jergens products for natural, lit-from-within color.
Shop everything needed to get James' instantly-iconic red carpet hairstyle just below.