By The Looks Of Her New Haircut, Lady Gaga's Rock Era Is Imminent
She's finally home from Planet Chromatica.
Gotham/Getty Images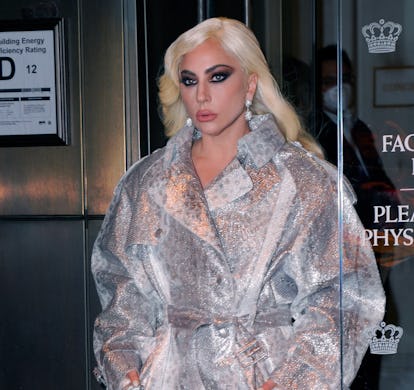 In a way, it's kind of funny. Lady Gaga's famously cycled through so many extreme hair colors, lengths, and styles, that the sight of her with a straightforward, rather classic cut feels just as major. Gaga's long, shaggy bangs, just debuted, brilliantly blend in with the rest of her tousled layers, but it's the potential meaning behind the transformation that has fans so excited. With so many movie and Haus Labs commitments, music's taken a bit of a backseat lately in the Gagaverse — but just look at her choppy hair and silver pinstriped suit jacket, spotted as she headed from a New York City recording studio to a party for The Rolling Stones, and tell to say that LG6 isn't imminent. Judging purely on aesthetics, too, Gaga might just be exploring an entirely new sound to match.
By now, even casual observers know that fashion, beauty, and music are all inextricably tied for Lady Gaga. When she segued into her Joanne era, for example, she cast off the horned facial prosthetics and bright dyes in exchange for cowboy hats, cutoffs, and simple, slicked-back buns. She does this for virtually all of her studio albums, which is part of why this new haircut is so notable. Fans are already comparing the long bangs and choppy platinum layers to rock icons like Debbie Harry.
When combined with her smoky eye makeup, glossy black manicure, and that skinny scarf practically copy-pasted from Keith Richards' uniform, it's easy to imagine her sixth record has more of a rock bent than ever. Gaga's long been inspired by the genre's greats, incorporating signature sound elements into dozens of songs — even her stage name plays homage to a Queen hit — but she's never done full, unabashed rock.
Of course, it's impossible to say exactly why Gaga's been in the studio so much lately. She could be recording some audio or music for her upcoming Joker film sequel, or working on something altogether unexpected. Knowing her, it wouldn't be the first time she pulled a total 180 and surprised everyone.