Victoria Beckham's Brow Routine Required The Perfect Pencil — So She Created It
She's celebrating a new VBB launch.
Courtesy Of Victoria Beckham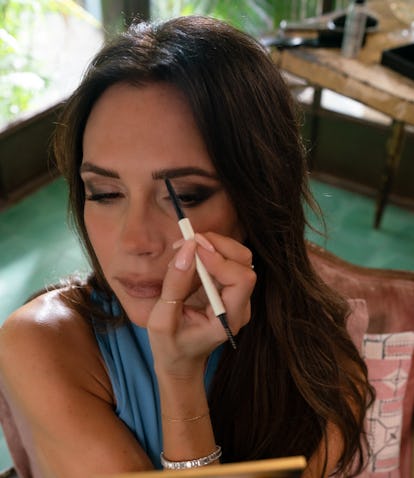 We may receive a portion of sales if you purchase a product through a link in this article.
Victoria Beckham doesn't subscribe to the idea of a "standard service" brow. On beauty-centric corners of the internet, it's common for artists to simply cut out shots of them applying brow products — the mentality is that brows turn out the same way every time. But the same way hair can be styled infinite ways, eyebrows are far more versatile than they're given credit for. Of course, having the right products for an array of looks helps, too. Victoria Beckham Beauty's BabyBlade Brow Pencil is the star-turned-mogul's first foray into the world of eyebrow products, but she's already a consummate arch-taming pro.
In her personal life, Beckham shares she's been on a hunt for a holy grail eyebrow multitasker for quite sometime, particularly one with an ultra-fine point for drawing in lifelike individual hairs. Regardless of if she's after an ultra-defined brow or just some natural polish for everyday, the perfect hybrid product's proved elusive — so she created it herself. "For me, a beauty look is not complete without a tailored eye, which always starts with my brows," Beckham explains to TZR. She describes the double-ended pencil-spoolie combo as a pomade texture in a stick, soft and pigmented but available in a range of six shades that captures natural and salon-given hair undertones strikingly well.
"The shape and slant of the brow pencil is perfect to be able to achieve a natural look to the brows that is not too heavy, yet still defined," she says, emphasizing what might be the product's best feature: that ultra-fine angled tip that makes filling in gaps and recreating hair strokes mercifully easy. "It's the product I reach for regardless of whether I'm doing a full look or not and [it's] what was missing from our lineup of incredible eye products."
Day-to-day, the always-glamorous Beckham shares that she uses the Medium Brown shade to create hair-simulating strokes through her brows before giving it a quick fluff-and-blend with the spoolie end of the pencil. "When it comes to my brows, I personally like a bushy texture and a natural shape," she says, highlighting the dynamic shape of the pencil wand and tip — it mitigates the risk of sloppy application or a harsh, muddy finish. And once it sets, she adds, there's no smudging or fading. "When I create my shape, I try to avoid using a heavy hand – nothing should look too forced or perfect, and I work to keep a natural symmetry to my brows when filling them in."
Considering her decades of fame, Beckham's logged more time in the makeup chair than most do in an office. It's afforded her an inside look at exactly what to do and, even more importantly, what not to do. "One critical lesson is never over-pluck your eyebrows — or even worse, shave them, as someone once did to me!" Her strong, perfectly-arched brows have recovered, of course, but call it a lesson well-learned. For a gentler approach to sculpted eyebrows, shop VBB's brand-new BabyBlade pencil just below.