Kim Kardashian's Punky New Photoshoot Reimagines The Best Beauty Trends Of The '90s
She looks like a different person.
@kimkardashian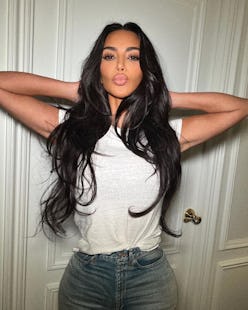 In assorted efforts to "break the Internet" over the years, Kim Kardashian's gamely tried many different kinds of photoshoots. She's oiled up and stripped down, strapped on a variety of wild wigs, bleached every hair on her head, and cosplayed as all sorts of legendary figures. There isn't a lot she won't do to get the shot, but her latest shoot, in which Kardashian has a cybergoth buzzcut and skinny '90s brows, truly transcend — the sort of photos Tyra Banks would spend at least five full pre-commercial break minutes praising. The shoot, done for CR Fashion Book, features the world's most famous woman like she's never been seen before. It's grungy, it's glam, and it's more than a little unexpected.
Kardashian's commitment to the coolest aesthetics can never be underplayed — she is a libra after all, and there's perhaps no group you'd rather photograph. In the shoot, she's at once stripped down and totally glammed up, dressed in a battered, dirt-splattered tank top and retro cat-eye glasses. The beauty aspect is what takes this entire concept to the next level, though. Hairstylist Matt Benns fitted Kardashian with a spiky, tousled wig, while makeup artist Yadim Carranza strategically concealed and arranged her eyebrows into paper-thin parentheses arcing over each oil-slicked eyelid. The effect is scary and sultry, yielding a totally transformed Kardashian.
Naturally, the public reaction to Kardashian's undeniably cool look was immediate and extreme. Thousands of commenters are camped out beneath her photo posts, guessing references and praising the star for trying something so different from the usual. In her caption, she even shares that she was the magazine's first cover star when it launched, with this shoot produced for its 10th anniversary.
While she's experimenting with tons of different wigs, extensions, and hair pieces over the years, the buzzcut is previously uncharted territory. Notably, Benns opted for a longer, spiker take on a shaved head, which actually adds even more edge — paired with her artfully filthy tank top, the faux buzz feels more haphazard and grown-out, like Kardashian grabbed the clippers herself just a few weeks ago. So many celebrities have been trying the look out lately, including Florence Pugh, who debuted a her freshly shaved head as part of a big reveal at this year's Met Gala.
Interestingly enough, Kardashian's lending even more legitimacy to the skinny eyebrow trend, too. Perpetuated by cool-girls like Gabbriette, FKA Twigs, and Bella Hadid, the razor-thin style helped define the '90s and made it one of the decade's most instantly-recognizable trends.
As amazing as Kardashian's latest cover shoot is, doesn't it make you all the more excited for what's to come? Nearly 15 years after the premiere of her family-focused reality show and she still finds new ways to keep fans on their toes — nearly every week, in fact.