This Is The Exact Lip Combo Samantha Jones Wears In And Just Like That
James Devaney/WireImage/Getty Images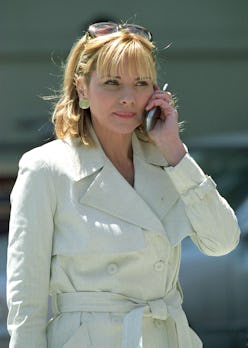 It's the moment fans have been waiting for since the series' production was even announced — Samantha Jones just made her desperately-anticipated (yet all too brief) return to And Just Like That, a touching tribute to the original Sex And The City foursome who became full-fledged cultural touchstones. Of course, the sweet moment was largely about the narrative itself, but it would be remiss to not even touch on Kim Cattrall's AJLT hair and makeup. Both the OG series and the reboot are legitimately legendary for the excellent, personality-representing outfits worn by each character, but it's time beauty got its due — especially for a look as excellent as Cattrall's.
When viewers first see Samantha on-screen, she's installed in the back of a Town Car leaving the airport, but is dressed to the nines in a metallic silver blazer and the perfect set of tapered, bottleneck bangs. In classic Samantha fashion, too, Cattrall is done up in sultry, feature-defining makeup that helps tie together her personal style, but manages to never overshadow her outfit or accessories. Though Cattrall's appearance on the show was much more like a cameo than a true guest spot, the impact of her 80-second scene can't be understated.
Fortunately for the legions of self-identified Samanthas out there, her fellow PR mavens were kind enough to shed some light on the exact products used on-set. Catrall's favorite celebrity makeup artist and longtime friend Kyra Panchenko worked on the look, using a slew of top-rated and viral beauty products. First, Panchenko prepped Cattrall's skin using a combination of microcurrent lifting (thanks to the NuFace Trinity), face and eye masks, and the Gee Beauty Prime Skin Beauty Oil to ensure a soft, supple canvas for makeup.
From there, Panchenko laid down the Gee Beauty Prime Skin and Soft Blur Radiance Priming Balm for all-over even tone and an airbrushed effect. Next up is reintroducing color and definition — Gucci Westman's bronzer in Biscuit and Charlotte Tilbury Pillow Talk Lip & Cheek Glow take care of that beautifully. On the eyes, Panchenko gave the lashes some extra oomph with individual falsies and mascara combined, with the Victoria Beckham Beauty Satin Kajal Liner in Cocoa rimming the upper and lower lash lines. Finally, the makeup artist completes the look with the Lisa Eldridge Gloss Embrace Lip Gloss and Lip Pencil, both in Blush Lightly.
Speaking for everyone, 80 seconds of this glam wasn't nearly enough — prayer circle for Catrall's full-time return next season, anyone?