Samantha Jones' Style Is As Bold As Ever In The 'AJLT' Season 2 Finale
She hasn't changed one bit, and we love it.
Amy Sussman/Getty Images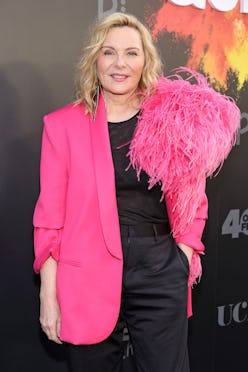 We may receive a portion of sales if you purchase a product through a link in this article.
Finally the day has come: Kim Cattrall has reprised her role as Samantha Jones. The actor's brief on-screen cameo came at the beginning of the And Just Like That... Season 2 finale, where she gave Carrie Bradshaw (Sarah Jessica Parker) a call to tell her that she was stuck in London and wouldn't make it to Carrie's dinner party. The chat ends with Sam thanking her BFF for everything and wishing Carrie well as she prepares to move into a new apartment. And while the scene was short, it gave us more than enough time to check out Samantha's outfit in AJLT (because this, honestly, was the best part!).
Cattrall's character was styled by none other than legendary costumer designer Patricia Field, who worked on the original Sex and the City series. Back in June, while appearing on The View, the actor explained that she received a call from the head of HBO, who asked, what can they do to get her back on the show. She told the daytime TV hosts: "One of those things was to get Pat Field back because I just thought that if I'm going to come back, I gotta come back with that Samantha style. I gotta push it, and we did."
It appears Field didn't tweak too much of Samantha's style, dressing her in the same punchy colors and silhouettes that we all know and love on the character. Samantha, who always had a penchant for saturated hues, rocked a ruched red-orange dress while in the car. If you recall, throughout the SATC series and movies, she always wore the fiery shade, be it by way of a bright skirt or a wedding guest look (to Carrie's almost-ceremony). The color certainly matches Samatha's charismatic and adventurous personality.
Field also dressed the publicist in a metallic silver coat, which felt natural for Samantha as her outerwear selection always contained unique fabrics and designs. As for her accessories, fans will instantly recognize her lime green bag as the Fendi First — the style initially debuted on the Fall/Winter 2021 runway. It also complemented her vivid dress and shiny coat. For jewelry, Sam wore a giant cocktail ring and big silver cuff bracelets. If you look back at her style in past SATC episodes, you'll see that she always rocked some sort of statement jewelry with her outfits while taking on the Big Apple. Although the character no longer resides in the city — she moved to London while the rest of her gal pal group remained in NYC — Sam's bold style seems to have remained a constant across the pond.
AJLT was recently renewed for a third season, but whether or not we will see more of Samantha remains unclear. Cattrall previously told Today that the cameo was as far as she'll go in participating in the reboot. If that's truly the case, well, we will savor the brief on-screen moment — and hey, at least we got one final look at Sam's impeccable wardrobe! For the fans who can't get her latest (and maybe last?) look out of their heads, shop her exact Fendi bag plus similar pieces below.