Katie Holmes Has Been The Reigning Queen Of Sophisticated Hair Moments Since 1997
A look back at her hair evolution.
Pascal Le Segretain/Getty Images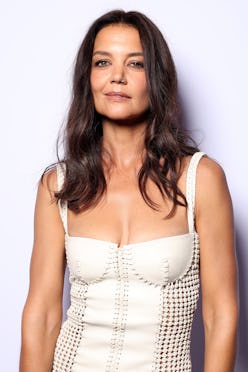 It's hard to believe that when Katie Holmes made her Hollywood debut, she was just 19 years old. She quickly rose to starlet status thanks to her big break playing girl-next-door Joey Potter on the iconic teen drama Dawson's Creek. For a while, she embodied the wholesome role through her off-screen aesthetics, too — and as Holmes grew up in the limelight and started getting experimental with her outfits and beauty choices, she endeared herself to an entirely new audience and scored some seriously interesting projects in the process. Holmes' hairstyles evolution tells the story of a sweet Midwestern girl who ascended to the top of the Hollywood heap, but managed to never sacrifice the down-to-earth charm that made her so beloved in the first place.
When Holmes first hit the scene, her hairstyles of choice were a perfect reflection of where she was in her life — and what was trending in the late '90s. Her red carpet appearances are full of iron-given corkscrew curls, elaborate twists, and face-framing layers. But by the early 2000s, she had come into her own and started to play around with interesting cuts, bangs, and new textures. Around that time, her five-year marriage to Tom Cruise was stuff of tabloid legend — one word: TomKat — and rocketed Holmes to the cover of every single supermarket-sold magazine imaginable. That's when things got really interesting and Holmes debuted the single most dramatic chop of her entire career.
Now, at 44, Holmes is living life on her own terms and looking better than ever. As if reflective of her comfort level, she's managed to get even more creative with her hairstyles, even sporting avant-garde wigs, hairpieces, and faux bangs to drive her aesthetic vision home. Below, revisit some of her best hair moments over the years.
Prom Hair in 1997
It doesn't get more classically '90s than an elaborate updo perfect for a big end-of-year school dance. While Holmes skipped decorating her bun with of-the-moment butterfly clips or spray-on glitter, the look's twisted nature is its own accessory.
Fresh & Natural in 2000
Many OG Holmes fans will forever think of this natural-looking blowout as her quintessential look. While she's undoubtedly stunning with the artfully undone aesthetic, keeping her in this box is a disservice to her creative side.
Going Golden in 2003
Already, her burgeoning beauty icon status is showing. Just a few years into her career and she's already going for bold shakeups — while short-lived, her golden-blonde era is worth revisiting. The side-part and straightened ends are hallmarks of the time period.
Curtain Bangs & Curls in 2005
By 2005, Holmes was the biggest news story in town thanks to her whirlwind, extremely public relationship with Cruise. When she presented him an MTV Movie Award, she looked every bit the A-lister with full, lush curls, layers, and gentle, face-framing curtain bangs.
Asymmetrical Bob in 2007
All that media scrutiny undoubtedly takes a toll, which could explain the impetus behind Holmes' signal most surprising hair moment ever: the day she went for a shoulder-clearing, asymmetrical chop. The shape of the cut and its long bangs immediately drew comparisons to Anna Wintour, but it must be noted that everyone was doing the angled bob in 2007, including Victoria Beckham and Rihanna.
Polished Side-Part In 2009
By 2009, Holmes was still hanging on to her short, chic bob, but put a fresh, face-forward energy into it by parting her hair on the side. This look, especially with her sultry, smoky eye makeup, feels so quietly powerful and more than a little sophisticated.
Bold Bangs in 2012
Holmes' extreme fringe might have been clip-on, but they made a major impact at the 2012 Oscars. For the occasion, she equipped them to her glossy half-ponytail and let the lengths fall to the top of her beaded gown. A decade later, she'd revisit the bold look.
Brushed-Back Blowout in 2015
The brushed-back top portion of this otherwise classic style adds drama — and some modern edge — to the look. Notably, she steered clear of too much product, shine, or sleekness overall, which helps the look feel anchored by a bit of casualness, too. Call it "rode here in a convertible" glam.
The Perfect Pixie Cut in 2017
The second major chop of her career wasn't as shocking as the original, but it was a delightful surprise for fans. This time around, Holmes went even shorter to get a true pixie cut. She'd often style it with retro drama in mind, like this elegant side-combed style.
A Return To Form in 2019
Couldn't this practically be a Dawson's Creek promotional shot? In 2019, Holmes took a brief break from non-stop experimentation to get back to her roots at the ballet. Her soft side-part, medium-length cut, and extra-shiny finish is just downright pretty.
Fashion Week Micro-Bangs in 2022
A comfort zone is no place to stay, and Holmes gets it. At a Tom Ford show in 2022, she unveiled an amazingly editorial set of micro-bangs gelled against the forehead and fanned out into flat-flaying spikes. Though these bangs would again be proven faux, this remains one of her all-time coolest moments.
Long, Blunt Bangs in 2023
Holmes ended the latest New York Fashion Week with a literal bang when she arrived at a Chanel celebration with her pin-straight hair accented by wispy bangs. These are actually real, and they suit her incredibly well. Only time will tell how long they'll stick around, though.
This article was originally published on