Katie Holmes Just Traded In Her Beach Waves For A Much Edgier Look
So simple yet so sophisticated.
Pascal Le Segretain/Getty Images Entertainment/Getty Images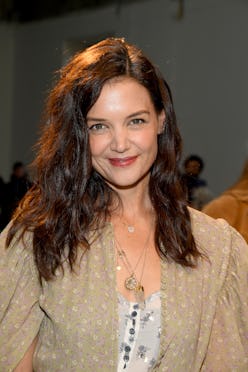 Katie Holmes' distinct brand of simple, boho-infused sophistication should be taught in schools. For decades (plural) now, Holmes has kept her fans engaged with her sleek silhouettes and fashion choices as well as her Euro-inspired approach to beauty — think her signature air-dried waves, dewy skin, and pops of red lipstick at high-profile events. But over the past year, Holmes seems to have made it her mission to step outside of her comfort zone to play and experiment with edgier, exciting beauty looks that explore existing trends and burgeoning ones alike. Katie Holmes' slicked-back braid on The Tonight Show is a perfect example, too. Expertly combining the best elements of a gelled-down bun with the sleek length of a snake braid, it's still a refreshing (and majorly trendy) departure from her usual effortlessly glamorous vibe.
The sleek and well-blended braid earned more than a few double-takes when previews of the late-night show look first surfaced online. At first glance in promotional stills, Holmes appeared to be wearing a classic, TikTok-approved slicked bun, brushed back and lightly center-parted to show off her gleaming hoop earrings and tiny nose ring. But watch her live appearance and you'll immediately catch sight of the long, glossy braid trailing down her back.
Holmes' go-to celebrity stylist, DJ Quintero, showed fans a behind-the-scenes look at the styling. In the video, originally shared to Instagram, the braid's impressive length and super-sleek top half can truly be appreciated. Quintero created a distinct split between the upper portion of the style and the braid itself, pulling the front sections up and back for a lifted, upswept effect, fastening the remaining hair at the nape of Holmes' neck and braiding it down from there.
By securing a ponytail before adding any plaits, the look becomes a "snake braid" — a fun term for a braided ponytail, which you've seen everywhere from the For You Page to on celebrities like Kim Kardashian, Zendaya, Jennifer Lopez, and Blake Lively.
With so many exciting styles folded into Holmes' beauty repertoire these days — don't forget her unreal micro-bangs look, also by Quintero, debuted at New York Fashion Week last September — it's safe to expect even more inspo in the year ahead.