Kate Hudson Just Wore The 2023 Version Of Her Yellow Dress From 'How To Lose A Guy In 10 Days'
@ katehudson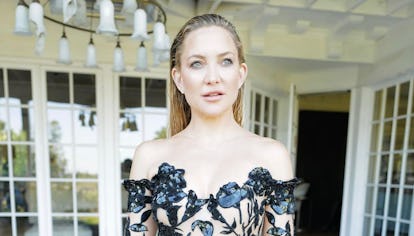 We may receive a portion of sales if you purchase a product through a link in this article.
The costumes you see in TV shows and movies can oftentimes leave an everlasting imprint in cinematic fashion. Take Jennifer Garner's 13 Going On 30 rainbow dress or Sarah Jessica Parker's Vivienne Westwood bridal gown from Sex and the City as prime examples, these iconic style moments have continued to live on in the hearts of fans everywhere. Along these same lines, How to Lose a Guy in 10 Days stans will certainly recall Kate Hudson's silky yellow dress from the film. Her character, Andie Anderson, wore the gorgeous evening look while attending a party with beau Benjamin Barry — played by Matthew McConaughey.
If you were obsessed with her ensemble (guilty!) and still think about it every so often (guilty again! I rewatched this style scene on TikTok a few months ago...), then you might've noticed that Hudson's recent outfit on LIVE with Kelly and Ryan bared an uncanny resemblance to Andie's gown in terms of color. The actor wore an egg yolk-yellow, long-sleeve number from Stine Goya, which was basically the 2023 version to her character's iconic 2000s dress. The Stine Goya piece featured a thigh-high side slit and Hudson styled it with a pair of knee-high white boots for her talk show appearance.
While Hudson's latest frock is from a Copenhagen-based label, her alter ego's dress was actually a custom Carolina Herrera creation. Fans will remember that the silky evening piece had a low back with a crisscross design and an overall minimalist vibe that acknowledged the beauty of simplicity.
Unfortunately, you can't purchase Hudson's custom movie look but before all hope is lost, you can secure her Stine Goya number once the label's Spring/Summer 2023 collection drops in February. (Her exact number is called the Damai dress.) In the meantime, if you have an upcoming wedding, birthday party, or gala to attend and can't wait any longer to recreate Hudson's cinematic style moment, you can shop similar silky yellow dresses ahead.