Jennifer Lopez's Vampy Lipstick Is The Smartest Way To Do Fall Beauty In Warm Climates
@jlo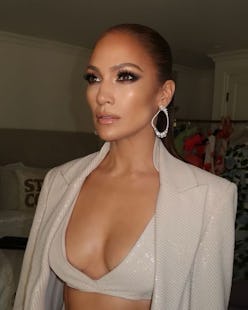 When it comes to statement makeup, there's no touching Jennifer Lopez. While other celebrities and style stars often have one signature lipstick shade they keep in constant rotation, Lopez's preference is simply all of them — she's tried almost everything and, utterly unsurprisingly, they all look incredible on her. But for as alluring as her summertime glow is, her autumnal beauty choices might be even better. Lopez's violet lipstick made back-to-back appearances at two major, radically different events, proving her love for the shade and its impressive versatility alike.
Considering Los Angeles has been enjoying sun-soaked 85-degree weather, it might feel too soon for darker or moodier color choices — and therein lies the brilliance of Lopez's lipstick. The rich, purple-pink shade is a smart way to incorporate all the fun of fall into makeup without feeling totally unaligned with the weather. She wore it to the fifth annual Daytime Beauty Awards where it fit right in with fuchsia-patterned dress, then again the next day to a star-studded event honoring her Delola cocktail line, this time paired with a crisp white shirt-dress. Without the lipstick, both looks might have ready too summery for an October day — that's the power of strategically-chosen makeup colors.
Though this is her first bold lipstick look of the season, it's far from Lopez's first time experimenting with them. She largely sticks to sleek nudes and baby pinks to put more attention and drama on her hair, outfit, and eye makeup, but the moments when she does go all-in on the lips are always so memorable. Who could forget this berry-toned holiday look from Christmas Day?
There is one rule Lopez does seem to stick to with all of her statement lip looks, though. On the whole, she prefers satin or matte dark lipsticks, preferring to keep the glossy, shiny finishes to her more muted nude shades. But considering it's an entirely new year, who knows what she'll be experimenting with next? Lopez is nothing if not an all-time master of self-reinvention.