These Are Our Favorite Ways Celebrities Rang In 2023
Kourtney Kardashian / Instagram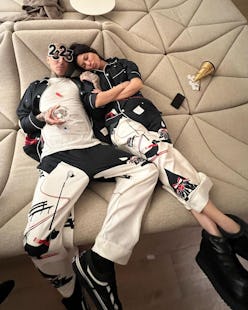 New Year's Eve means something a little different for everyone. For some, it's a chance to cozy up at home with loved ones, drinking champagne and quietly watching the ball drop. For others, it's a chance to dress up in their sparkliest 'fit and dance 'til dawn. The same, apparently, is very much true for celebrities. You may think that they all attend star-studded, extravagant parties — and that is certainly the case for many. But in actuality, the ways celebs spent NYE to ring in 2023 were all across the board, from lavish beach festivities to hiking with friends and beyond.
From Selena Gomez to Oprah, the stars this year really demonstrated their various ideas of New Year's fun. For Kourtney Kardashian and family, that meant staying home and celebrating by the fire. Gabrielle Union, on the other hand, chose a beachy getaway and dinner and dancing with loved ones. And others, including Emily Ratajkowski and Shay Mitchell, opted for a classic evening — sparkly dresses and a big party by the beach.
NYE may be over for now, but there's no harm in revisiting stars' evenings from the holiday — they're all full of incredible outfit inspo, happy moments, and important reflections for the year ahead. Here, a few of TZR's favorites.
Kourtney Kardashian
From her photos, Kardashian appears to have spent NYE cozied up with her family, drinking bubbly, enjoying the fire, and throwing confetti around.
Gabrielle Union
Union shared a slideshow of her New Year's Eve, which included singing, popping champagne, and eating dinner with friends.
Selena Gomez
Judging from her many Instagram posts, Gomez rang in the New Year with beaches, boats, sparkly Valentino dresses, and lots of friends (including Nicola Peltz).
Dua Lipa
Dua Lipa's NYE slideshow is devastatingly glam — it features a chic house party, a thong-baring sparkly dress by Ludovic de Saint Sernin, and the coolest cocktail glasses.
Oprah
According to her Instagram, Oprah rang in the New Year the same way she spent Christmas: hiking with loved ones. "Ended 2022 with a morning 'gratitude' hike that lasted half the day," she wrote in a caption. "Uphill for 5 miles straight. 10.2 miles round trip. We packed bread, gospel songs and mantras."
Mindy Kaling
Kaling didn't specify exactly how she spent the entirety of her NYE, but it seemed to have included a sweet celebration and baking this cute cake at home.
Shay Mitchell
Mitchell posted an envy-inducing roundup of pictures to ring in the New Year, showcasing a classic celebration with a lavish dinner, a silver retrofête dress, and plenty of fireworks.
Emily Ratajkowski
Ratajkowski's NYE seemed similar to Mitchell's in that it took place somewhere tropical, featured a lavish party, and included a very shiny dress.
Jennifer Lopez
Lopez spent time in on NYE, sipping champagne in a festive gown and "2023" glasses.