Halle Berry's Full, Voluminous Afro Is The Ultimate Natural Beauty Inspiration
She practically gets prettier by the minute.
Daniele Venturelli/Getty Images Entertainment/Getty Images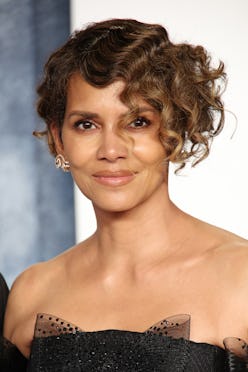 Halle Berry knows firsthand the fun that comes with trying out all sorts of different hairstyles, lengths, colors, and textures. She's experimented with every type of cut under the sun during her years in the spotlight — but even superstars want to get back to their roots sometimes, especially when you look this good all stripped down. A special treat even for her most dedicated fans, a just-shared selfie featuring Berry's natural Afro is already shaping up to be one of her most popular Instagram posts of all time, and with very good reason.
Bare-faced and radiant in what looks to be her lushly landscaped backyard, Berry shows off her picked-out curls in all their glory. Her Afro is full and fluffy, with her cinnamon-toned brunette color illuminated to an even warmer degree by that direct sunlight. "Sunday serve...my man loves this," Berry captioned the post, which already has thousands of compliments in the comment section from both fans and her celebrity peers. "Forward all complaints to him," she joked, but feel free to go see for yourself — absolutely no one can complain when presented with a look like this. The people already spoke when Berry was democratically voted as the world's most beautiful woman, but it's always nice to see a reminder on the timeline.
Not only is Berry's Afro delivering excellent natural hair inspo, but it's also another short-medium style added to her roster. Though she started the year with her jaw-length hair close-cropped in a more retro style and a highlight-streaked asymmetrical pixie, she's grown them both. Based on other recent photos, it seems liker her curls now fall just past her shoulders — which tracks with the size and length of her picked-out Afro, too.
More than just a stunning hairstyle, the Afro is infused with some serious power, particularly during the Civil Rights movements of the '60s and '70s. "Hair really was meant to be a very powerful symbol of this, 'we're not going to kowtow, we're not going to reduce ourselves, limit ourselves, make ourselves small,'" Lori L. Tharps, co-author of Hair Story: Untangling the Roots of Black Hair in America and the founder of creative writing platform Read Write and Create, previously told TZR. "If a woman went from wearing her hair straight to putting in an Afro, she grew three inches."
Leave it to Berry to lead by example.