Hailey Bieber Flipped The "Naked Disco" Trend On Its Head For Date Night
And anyone can recreate it.
@haileybieber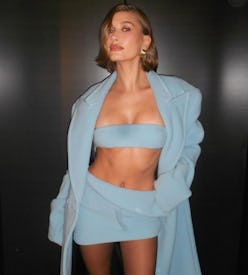 When a celebrity like Hailey Bieber takes the time to film an in-depth beauty tutorial, you're not alone if you feel like overhauling your entire routine. With access to the best products and the most knowledgable experts, even a star demoing something so benign as lipstick application becomes a full-fledged masterclass. In Bieber's case, her latest YouTube upload is a 5-minute tour of her dewy-complexioned makeup for an exciting night out, and it just happens to feature a how-to on one of the season's most ethereal beauty trends. Hailey Bieber's stained red lips and "naked disco" eye makeup utilizes the same strategic approach to sparkle seen in the manicure trend of the same name, but reworks it to highlight the eyes. Of every beauty video Bieber's released, this might just be the one with the most versatility and potential.
While Bieber posted the video to her 2-million subscriber YouTube channel on April 10, fans will immediately recognize that it was filmed months ago — her long, elbow-skimming hair is the giveaway, cut into a short, chic bob in late January. As the video opens, the Rhode Beauty founder is heard describing the vibe she's after to her her hairstylist and makeup artist. "Maybe a stained red [for the lips]," she explains, "and a glowy eye."
The video briefly shows makeup artist Leah Darcy buffing on some taupe-colored transitional eyeshadow all through Bieber's crease and then laying down a bit of silvery spangles, both of which taken from what appears to be the Pat McGrath Labs Moonlit Seduction Palette. The relatively light sparkle against a nude background is the basis of the naked disco beauty trend — the simple canvas helps illuminate the shimmer, but keep the look from veering too dramatic color-wise. Similarly, naked disco nails are usually just some sparkly polish or glittery flakes over a muted nude nail color. From there, Darcy is seen defining Bieber's upper lash line with a medium-brown eyeliner while hairstylist Irinel de Léon works on her slicked-back bun.
The final piece of Bieber's low-key glam is what describes as "stained" red lips, or long-lasting yet faded-looking color — think the natural flush lips have after a few glasses of wine and some kissing. The more casual nature of stained lips have made it a strong yet somewhat under-the-radar trend, beloved for how it makes even very bold colors look relaxed.
In the video, Darcy brushes on an unseen color with a lip brush, layered with Bieber's Rhode Peptide Lip Treatment. The finished effect is undoubtedly sultry and impossibly dewy, but defined and polished.
If Bieber ever wanted to retire from mogul-ing, she'd be the biggest beauty influencer in the game.