Try *Not* To Be Intrigued By This Futuristic Skin Wand Hailey Bieber Loves
We all need one now, right?
@haileybieber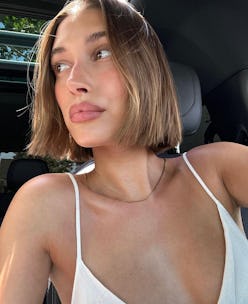 We may receive a portion of sales if you purchase a product through a link in this article.
Stars aren't so different from the rest of the world — they even have to adjust their skin care routines accordingly when faced with important upcoming events, seasonal concerns, and (perhaps most relatable of all) to make room for the exciting new products they've been put on to. Hailey Bieber is humble enough to admit that the first tutorial she posted to TikTok was never meant to be her forever lineup. But from the looks of her latest demo, this new iteration could be her among her all-time bests. Bieber's 2023 skin care routine shares some essential elements with her previous versions, but it's also filled with luxe additions that make her photoshoot prep goals much easier to attain.
Bieber uploaded the video to her wildly popular TikTok on Wednesday, calling the slew of products and their application her go-to "skin prep for a shoot day." The video starts off with the Joanna Czech Pumpkin Peel Mask + Spot Treatment for some gentle exfoliation, immediately following it up with the cult-favorite SK-II Facial Treatment Mask, a clingy sheet mask dripping in the brand's signature essence. Bieber only features three of her self-owned Rhode products in the routine, patting in some of the new Glazing Milk just after peeling off the SK-II sheet. But that's where things start to get really interesting.
Upon patting in some Vitner's Daughter Active Botanical Serum, she busts out this LED-tipped wand and starts rubbing it all over her cheeks, the way you would with a microcurrent device. In fact, Bieber's wielding the Medicube Age R Booster-H, a high-tech tool that uses electroporation (that's high-voltage pulses that temporarily break through cell membrane barriers) to ensure the deepest possible product penetration. In other words, the $300 device optimizes everything else she uses in her routine for maximum efficacy.
Finally, she winds the routine down with her Rhode Barrier Restore Cream and a layer of glazing Peptide Lip Treatment. It's unknown exactly what photoshoot Bieber is doing all this prep for, but her skin practically emits its own light by the end of her video. Safe to say all that care and attention to detail is working.
Shop Bieber's pre-shoot skin care essentials just below.