Jennifer Garner's Dewy Skin Relies On A Classic Ingredient & The Facialist She's Loved For 23 Years
Steve Granitz/FilmMagic/Getty Images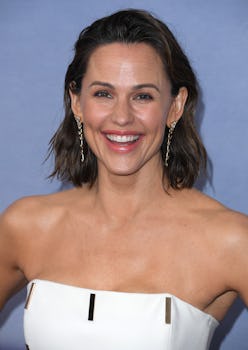 We may receive a portion of sales if you purchase a product through a link in this article.
Is there any star so universally beloved as Jennifer Garner? Overwhelming talent and versatile red carpet looks aside, Garner might be the queen of those we-would-totally-be-friends-with celebrities — she's family-focused, quick to laugh, and easygoing about sharing her style philosophies, interpersonal advice, and beauty secrets with her fans. At a certain point, though, you can't discount Garner's stunning personal aesthetic, as glowy, fresh skin, and feature-enhancing makeup have been her constant companions since her earliest days in the spotlight. To celebrate the throes of the season, TZR got an inside look at Jennifer Garner's skin care routine for summer, her favorite professionals in the industry, and the lessons she hopes to pass on to fans and family alike.
While Garner's famous complexion is managed by top-tier dermatologists and estheticians, so much of her radiance can be attributed to diligence, smart sun care practices, and a strict adherence to her personal beauty philosophies — not anyone else's. And to hear her describe it all just further underscores everything you already thought about Garner: she simply is that down to earth. Ahead, Garner opens up to TZR all about her skin care routine, favorites, and go-to products for her signature dewy look.
Her Sun Protection Practices
At 51-years-old, Garner says she's only now fully grasping the benefits of avoiding constant sunbathing in her youth. Summers spent working in cool, dark theaters meant she couldn't become a full-time sun worshipper like many of her friends, but she didn't make it through her younger years totally unscathed. "What people don't understand, especially when they're young, is that you don't see sun damage right away — you literally wake up at like, 38 and it's just boom, it's there all of a sudden. When they say that nothing looks better in your 50s than sunscreen in your 20s, they're not kidding."
She's still vigilant about keeping both herself and her children shielded from the sun, and keeps the Neutrogena Dry Touch SPF and Beach Defense Spray Protection spray ready in her bag and car at virtually all times. "I'll have spray everywhere...just to like zing my kids' arms, back, neck, face, whatever, as they're getting out of the car — I'll just hop out with them and then they can go off." She's all about the power of delayed gratification, both for overall sun safety and the aesthetic benefits that come along with it. "Your future self is going to want creamy dewy skin, and it starts with sunscreen."
Her Go-To Summer Routine
Garner's pragmatic skin care regimen starts with a commitment to hydration, a key element she says almost everyone can improve on. "First of all, we're all walking around dehydrated. Nobody drinks enough water — very few of us really get that Stanley Cup empty three times a day or whatever it's supposed to be. So you've got to hydrate from the outside in, from the inside out every possible way."
In her day-to-day life, she likes to turn to classic ingredients like hyaluronic acid, the main moisture-grabbing component found in Neutrogena's Hydro Boost line. Garner explains that the extra-absorbant hyaluronic acid molecules grab and hold more hydration than even a regular water molecule, which makes skin looks plumper. "When [skin] has more moisture in it, it's more flexible, [which means] fewer wrinkles." As such, she tells TZR that she goes all-in on the hyaluronic acid-powered products all through summer.
With her meticulous sunscreen use, cleansing is a critical piece of the routine. After washing her face, she says she layers on the gentle, fragrance-free Hydro Boost Cleanser, following it up with serum and, finally, a sleeping mask. To augment her daily products, Garner shares she still hasn't gotten into the more high-tech skin treatments on the market — "I've always been scared of lasers, they seem a little harsh for me" — but counts on celebrity esthetician Nerida Joy to keep her face looking fresh and sculpted. "I have gone to Nerida since 2000, so for 23 years, and she she just gives a great facial. She really believes in massaging the skin and bringing everything to the surface."
Her Biggest Beauty Lessons
Fun fact for Garner fans: She was actually celebrity stylist Rachel Zoe's first client in LA, and even shares that working with Zoe changed her career. "I owe her everything. And then I've also gotten to watch her live her aesthetic. She really does share it from the place of truly wanting to share what she knows." Garner says that Zoe gave her the "original beauty lesson" that's stuck with her all these years, but it came about through fashion choices. She explains that the pair used to laugh over Garner's aversion to anything that felt too costume-y, or not true enough to her personal taste. "There is a world where you can feel comfortable inside of fashion [and beauty.] You don't have to go outside of your comfort zone. Just keep figuring it out, keep honing your own vision of yourself, and you will get there."
Shop Garner's summer skin essentials just below.