The Tropical Cocktails That Will Serve You Well All Summer
Paradise for your palate.
Florentin Catargiu /Getty Images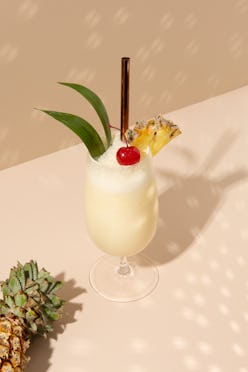 Who doesn't want to escape the problems and worries of everyday life? While you may not be able to drop everything and go on vacation, there is a quick fix in a glass that will bring a smile to your face as you savor the first sip. Behold tropical cocktails. There's a reason there are numerous books written about and bars dedicated to this one type of drink. Idyllic, fruity concoctions like the piña colada, mai tai, hurricane, daiquiri, and Singapore sling immediately transport you to an exotic oasis.
So, what makes tropical cocktails so special? Alexandra Dorda, founder and owner of Kasama Rum, believes that these types of libations are all about one thing: fun. "I think the fascination with tropical drinks is that they're associated with a good time… from the approachable fruit-forward flavors to the wide array of drink colors like blue or bright orange, to the over-the-top garnishes and decor, and even the variety of glassware colors, textures, and shapes like a huge pineapple or shark mouth-shaped glass."
The most common spirit star in the realm of tropical cocktails is rum. "This is because of the abundance of sugar cane, which rum is made from — notably, [from]the Philippines, where Kasama is produced, is actually the largest producer of noble sugar cane nationwide — and fruit found in tropical locations. It just so happens that they pair together exceptionally well," she explains.
Shay Smith, the founder and CEO of OCEAN Organic Vodka agrees that using a spirit made from sugar cane plays an essential role in creating these carefree cocktails because it helps "the tropical fruit flavors truly shine." Popular tropical fruit flavors found in these types of drinks include coconut, pineapple, mango, and banana, among others.
Even for the experts, it's difficult to map the exact history and trajectory of tropical cocktails. "Because rum is one of the oldest spirits, its long and nuanced history makes it difficult to pinpoint the origin of each tropical cocktail," she explains. "Many agree that the piña colada was invented by a bartender in Puerto Rico in the 1950s, the Mojito hails from Cuba as far back as the 16th century, and rum punch is attributed to Jamaica."
Smith adds that Ernest Gantt, who is often considered the godfather of exotic drinks, is responsible for planting its Western roots in 1934 when he opened Don the Beachcomber in Hollywood, a bar serving tropical sips. "Soon after Victor Bergeron opened Trader Vic's in Oakland," Smith says of the burgeoning cocktail trend. "Serving delicious, exotic, tropical cocktails, with unusual ingredients, and crazy garnishes, the concept took off."
Tropical cocktails have remained a mainstay since they debuted, and according to Smith, they're different from other cocktails because there isn't a current trend that features a hot new take or a reimagining of the classics. Instead, the popular thing to do is to honor the legacy of these drinks and stick to tradition. "If there is an evolution in tropical cocktails, it's back to basics with premium, fresh ingredients," he says.
Tropical Cocktails Rules Of Thumb
When it comes to making tropical cocktails at home, the experts advise beginning with choosing a spirit, preferably one made from sugar cane, but Dorda looks for another element as well. "I like to look for a spirit with a story," she says. "Many brands, like Kasama, have a long history or were started from a place of genuine passion which makes me trust that they are a good choice."
In addition to the spirit and exotic ingredients like coconut cream, frozen mango, pineapple juice, and fresh citrus, if you're making a tropical cocktail at home, you also need the chill factor. Dorda explains that "really good ice" is essential to the success of a tropical cocktail because "it will affect the quality and taste of the drink," she says. That means using clean, filtered water to make your ice and making sure it's stored properly.
"I recommend keeping it away from any frozen seafood or anything else with a strong smell," she advises. The shape of the ice you decide to create is also important for both aesthetics and flavor. "Typically, you use cubed ice for shaking and stirring and you can use it to serve drinks over. Pellet ice is really nice in tropical drinks and big square ice cubes, or spherical ice is great for enjoying a spirit on the rocks," she shares.
Another tip from Smith to level up your tropical cocktail game is easy but does require some forethought. "If you can plan ahead, make your own simple syrup," he suggests. "Half water and half sugar, warmed and melted, it's super easy." And, as with everything, don't forget that presentation counts for half of the tropical cocktail experience. "Be creative with your glasses or stemware. Have fun with garnishes, which can include dried fruits and fresh edible flowers. Tropical drinks are joyful, have fun," he insists.
While experimentation is encouraged, there are a few things you want to stay away from so your tropical cocktails aren't swept away with a monsoon-size mistake. Those are "warm/hot cocktails" Dorda says, "or any heavily spiced flavors." Instead, she recommends to "save those [flavors] for fall or winter drinks."
Get ready to shake, stir, and grab your shades. Ahead, expert-approved tropical cocktail recipes guaranteed to give vacation vibes in every sip.
Watermelon Daiquiri
Dorda is seasoned when it comes to tropical cocktails and considers this "super refreshing" daiquiri recipe a standout, partially because it utilizes fresh, seasonal watermelon. "I love this recipe because it's summer in a glass," she says.
Ingredients
4 cups of chopped seedless watermelon
2.5 oz Kasama Rum
1 tablespoon of fresh lime juice
1/2 tablespoon of agave nectar
*watermelon slice for a garnish
Instructions
Combine all ingredients in a blender with ice. Pour into a coupe glass and garnish with a watermelon slice.
Ultimate Ocean Poi Dog
Smith's love for this "unexpected" tropical vodka cocktail is greatly linked to his passion for surfing. "The salt and pepper elements remind me of the ocean water and seaweeds," he says.
Ingredients
2½ oz fresh squeezed pomelo (or grapefruit juice)
¾ oz Yuzu citrus
¼ oz Yuzu juice
½ oz lemon juice
¾ oz Thai basil and black peppercorn syrup
1½ oz OCEAN Organic Vodka
*kosher salt and black pepper for the rim
Instructions
Rim half of Collins glass with salt and pepper. In a mixing tin, combine all ingredients and shake for 10 seconds. Strain over fresh ice into the glass. Garnish with one sprig of Italian Basil.
Pineapple & Port Punch
Indulge in an oasis of tropical flavors that permeate this sweet, tangy cocktail. Succulent pineapple juice, rich port, and rum are shaken together to create a tasty twist on a traditional punch. The tantalizing fusion of pineapple and port transports you to paradise with every sip.
Ingredients
1.5 oz Gold Rum
1.5 oz fresh pineapple juice
1 oz fresh lime juice
.5 oz simple syrup
.3 oz Cockburn's Ruby Soho Port
Instructions
Shake all the ingredients — with the exception of the port — up with ice and pour over crushed ice. Add the Fine Ruby Port and garnish with fresh mint.
Mangoneada
Embody the essence of tropical cocktails with an exotic elixir where luscious mango meets invigorating tequila to create a vibrant, delectable drink. The sweet mango mingles with tart tequila to create a well-balanced treat for your taste buds. Dare we say it's liquid bliss?
Ingredients
1 1/2 oz Tequila CAZADORES Blanco
1 oz mango juice or puree
1 oz lime juice
1/2 oz agave nectar
*Tajin and Chamoy for the rim
Instructions
In a cocktail shaker, combine all ingredients with ice, shake, and serve over ice in a rocks glass with a Tajin and Chamoy rim.
Kuleana Rum Banana Hammock
Ingredients
2 oz Kuleana Rum Nanea
.75 oz banana liqueur
.5 oz cream sherry
4 dashes angostura bitters
*banana moon for garnish
Instructions
Stir all ingredients together and strain into an Old Fashioned glass over a large block of ice.
Royal Hawaiian
If you want a tall, tropical, and tasty cocktail, look no further! The Royal Hawaiian is the closest thing you can get to a sip of sunshine in a glass.
Ingredients
1 ½ oz Empress 1908 Gin
1 oz unsweetened pineapple juice
1⁄2 oz lemon juice
1⁄2 oz orgeat syrup
*pineapple wedge for a garnish
Instructions
Shake all ingredients except gin with ice. Strain into a Collins glass with crushed ice, and layer gin on top. Garnish with a pineapple wedge.