Gabrielle Union's Newest Hair Muse? Her *Very* Stylish 4-Year-Old Daughter
@gabunion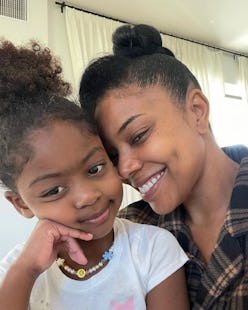 Considering the high-flying world from which they hail, a nice reminder of how down-to-earth celebrities can be is always welcome. The thing about Gabrielle Union and her adorable family, though, is just how loving and downright normal they seem even when on a glamorous international couple's trip or walking a major red carpet. Maybe it's because Union's unflinching honesty over social media, but part of it is her willingness to share precious moments as a loving mother and wife. In a new post to her Instagram page, it's revealed that Gabrielle Union's fresh Fulani braids were inspired by one seriously cute tastemaker — her 4-year-old daughter, Kaavia James. The braided buns feature a bit of tailoring to suit each of their styles (and statures) but were otherwise identical, right down to the zig-zagging center parts. If their matching mother-daughter hairstyles are inspiring you to take a page out of your own mom's beauty book, you're not alone.
In the sweet photo carousel shared to Instagram, it's revealed that Kaavia was the one who requested the matching look, a request Union was all to happy to fulfill. "I was honored to oblige," she captions the photo followed by a series of hearts and "Anything for her." Frankly, the mile-wide smiles on both Union-Wade girls says it all.
Also in the post, Gabrielle Union shouts out creator of the duo's looks, celebrity hairstylist Wankaya H. Over on the hair expert's own Instagram page, smiley shots of Kaavia getting her hair done — with cameos by mom, of course — stole the hearts of more than a few beauty fans. Notably, Union's own best-selling line of hair products, Flawless By Gabrielle Union, were instrumental in the sleek mother-daughter styles.
The only way the styles differ is in the string of beads hanging from the side-positioned Fulani braids. While Union opted for traditional large wooden beads in alternating sizes and earth tones, pint-sized Kaavia got a classic plastic strand of pink and chrome beads that perfectly complemented her hot pink t-shirt. While Kaavia was the mastermind behind this look, it's clear she's learned from the very best.