Gabrielle Union Was A Bridesmaid At Her Friend's Wedding & Wore The Chicest Hairstyle
Bookmark for your next commitment.
@gabunion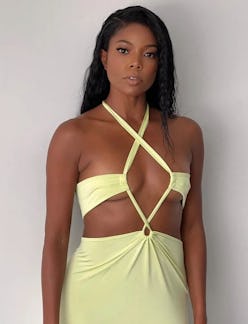 When is the modern job-hiring process going to accept "bridesmaid" on a résumé? Frankly, the time, money, dedication, appointment-making, and constant stream of emails is more demanding than some actual paid roles out there, and it bodes extremely well for both logistical and social skills. Being a great wedding party member is equal parts science and art, and something says Gabrielle Union knocks it out of the park every time. On her friend's big day, Union's bridesmaid hair, makeup, and palpable love for the bride were evident, all documented in the video-style photo dump she just uploaded to Instagram. Not only are her half-up topknot braids so chic with her clingy black sheath dress, but they're a timeless look perfect for immortalizing in those all-important wedding photos.
Based on the other clips in her video montage, Union also wore the swept-up box braids to an A-list athletic event, to the club with her husband, and out for some drinks, too. Braids are, of course, famously versatile on their own, but her tall, wrapped topknot adds even more glamorous to her looks for the high-profile events on her docket. It's particularly stunning at award-winning sports journalist Kelley Carter's wedding, a classically elegant black tie affair with a few other celebrity attendees in the crowd, too.
By now, you likely know that Union is the undisputed queen of incredible protective hairstyles, so it really says something that she pulls this one out with relative frequency. The voluminous half-up seems to pop up when she has something really luxe on the books, like Carter's wedding or an especially important red carpet.
It's been a busy summer for Union as a whole as she and her tight-knit family trade off between time lounging at home, working on assorted business-related projects, traveling, and keeping up with the daily grind in general. Who wouldn't come to rely on a hands-free, no-stress half-up hairstyle for that reason alone? Between the functionality and full-fledged glamour, the look is an A-list favorite for a reason.