Gabrielle Union's Unexpected Hair Accessory Will Thrill Cottagecore Fans
Robino Salvatore/GC Images/Getty Images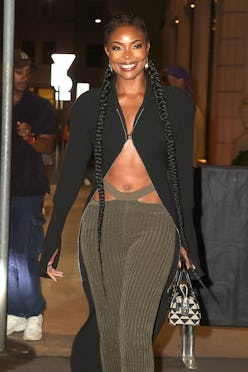 When it comes to hairstyles, Gabrielle Union is the queen of versatility. She can go from soft waves to spring twists with surprising ease, rightfully earning her status as a beauty chameleon. Already in 2023, the star has worn a variety of looks such as matching braided buns with her daughter, a box braid ponytail, and a sculptural updo with feathery pieces hanging down — and January isn't even over yet. Now, you can officially add Gabrielle Union's braided hair headband and massive top knot — which she wore back to back on the same day — to her seemingly never-ending repertoire of looks. Even among Union's impressive catalogue of past styles, using hair as a hair accessory is a refreshing, creative choice you might just start seeing everywhere.
To promote her appearance on the third season of the Amazon Prime drama series Truth Be Told, Union has been out and about in New York City this week. For one of her stops on the lengthy press tour, the actor wore a maxi skirt and long blazer, her hair in voluminous, glossy curls creating a halo-like effect around her head. To keep the hair out of her face and add an exciting dimension of detail, Union wore three arcing braids like a headband in front of the curls. Not only does it lend some whimsy to her polished look, but it helps show off her soft smoky cat eye and Jenny Bird earrings.
That same day, for an interview on Late Night with Seth Meyers, Union switched things up by changing into a sheer black dress Proenza Schouler with a plunging neckline and white trim. Her hair also got a refresh, going from bouncy curls to a sleek, sky-high top knot that put an emphasis on her fluttery lashes and glowing complexion.
Union hasn't yet shared her glam team for these looks, but given that her go-to hairstylist, Larry Sims did her hair for the Truth Be Told premiere this past weekend (and has been posting Instagram stories from New York City), it seems likely that he was responsible for her press day looks — and probably used products from her Flawless By Gabrielle Union line, too.
Once again, Union has proved that there's truly nothing she can't do, especially in regard to hairstyles. Perhaps fans will see even more unique takes on hair accessories from the star — if anyone can start a trend, it's Union.