Stylist Rachel Zoe Speaks To The Wild Glow-Up Of Festival Fashion
From flower crowns to chainmail dresses.
Shutterstock for BDG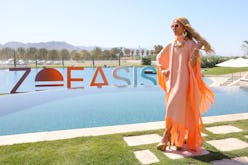 As we enter into Weekend 2 of the Coachella Valley Music and Arts Festival — and usher in a season of festivals across the globe — one can't help but contemplate the true spectacle surrounding these days-long affairs, particularly in regards to fashion. Some 20 years ago, music festivals were focused primarily on, well, music, with attendees perfectly content in comfortable (and cooling) ensembles of jeans, shorts, breathable fabrics, and sturdy footwear. These days, as you know, the landscape has truly changed, transforming these outdoor events, Coachella specifically, into full-blown fashion fêtes that rival fashion week.
"It used to be crocheted crop tops, denim shorts, fringy boots, and things like that," says longtime celebrity stylist and fashion expert Rachel Zoe, at TZR's annual ZOEasis event on April 15 in Thermal, California. "I feel like now it's gotten a lot dressier. I actually am seeing so much sequins, crystals, and actual evening dresses with faux fur. It's gotten more glamorous — and definitely naked. There's weirdly more dressed up [looks], but less clothes. How's that?"
Indeed, if Coachella's two-weekend stretch is any indication, this festival has reached peak fashion extravaganza status, with events and activations like Revolve Festival, NYLON House, Neon Carnival, CÎROC's Honey Melon at Soho Desert House, Marc Jacobs and i-D's Coachella pool party, and the aforementioned ZOEasis (to name very few, there are truly so many), offering attendees an excuse to show up and show out.
This year saw the style barometer straddle somewhere between '70s daytime disco diva levels and rhinestone coastal cowgirl, with shimmering chainmail mini dresses, sheer mesh ensembles, embellished skirt suits, and adorned cowboy hats and boots worn ad nauseam. And while sturdy, practical footwear is certainly still present — and necessary — in these looks, heeled and platform silhouettes were happily embraced too, desert terrain be damned.
Zoe has had a front row seat to this festival fashion evolution, as ZOEasis is in its seventh year at Coachella, and she was dressing some of the biggest names in Hollywood for it long before that. The style pro explains that her own approach has seen an evolution over the years. "I started off in peasant dresses because when we started [ZOEasis] it was 102 degrees every day," she recalls. "It was so hot, 'How do I look chic without being such a mess?' Now, over the last two years, it's much cooler so you can be like, 'OK, I can look like a person.' I think it's about finding something that's fun that you wouldn't necessarily feel like wearing to any other social event." For Zoe, this more elevated approach for the first week of the iconic festival translated to an ethereal apricot fringe Taller Marmo gown, complete with statement gold accessories and her signature sky-high platform heels.
Practical for hot, dusty desert terrain? Nope. Appropriate for the now fashion spectacle that is Coachella? Always.